Finding Balance in a Busy Life
Tuesday, February 6, 2018 10:25 AM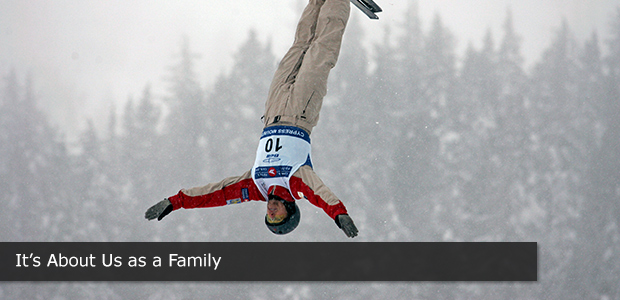 As a dad, finding balance in life can be tough with an active 17-month-old and another baby on the way.
Balance is hard, especially after having a career as an athlete where the focus – by necessity – was on my schedule, my diet and my training. All of a sudden, especially with a kid in the mix, it's the complete opposite. It can't be all about me anymore. It's about us as a family.
For me, I know I don't eat as well as I used to. But I still try to eat as healthy as possible and go to the gym a few days a week. I drop my daughter off at daycare, and for a couple of hours, I get to work out and feel somewhat like an athlete again, (one that lifts about half as much as he used to).
You can say I was a high-achiever in sports as a two-time Olympian and 2011 world champion in Aerials skiing. That's the sport where you do flips and twists off a huge jump. I launched myself off a four-metre tall wall of ice at 70 km/hr. I did three flips and up to four twists before trying to land back on my feet -- and it didn't always work out the way I planned.
I needed to eat properly to fuel myself as an Olympian, and it's just as important now for me as a dad, husband, and Realtor. It's simply ingrained in me to eat three meals a day with a couple of healthy snacks whenever I can.
You have to plan ahead and have good food around so you're not grabbing something unhealthy because you have limited food options. No matter how busy it gets, I make the commitment to eat well. Even though I'm a more of a weekend warrior now, many of the eating habits I developed as an athlete have continued to stay with me. For example, I still make sure to get in a good meal consisting of a lean protein, starch and vegetable before my rec league hockey games.
Even though I'm an Olympian, I still enjoy chocolate, pizza, and sitting down to the occasional bag of Chicago mix popcorn... My wife and I enjoy getting take out at least once a month; it's great to have a break from cooking when you have a little one taking up so much of your time.
The transition to life after sport has been hard, for sure. As an athlete, you never look past the next Olympics or world championships. When I retired in 2012, I could have made the commitment to go for the 2014 Winter Games in Sochi. But I just didn't have the passion and the fire in my belly anymore. I was ready to move on.
One thing I learned in all those years as an athlete is the importance of sleep for optimal performance and recovery. For me, I love to get seven or eight hours of sleep a night. Now that our little one is sleeping through the night, I'm thankfully able to do that again — at least for now. I know those first few months of having a kid can be a total-and-utter gong show as far as sleep goes, and we can only imagine what it's going to be like when our second one arrives.
In terms of mental wellness, I dealt with a lot of fear in sport -- especially because I suffered some pretty serious injuries (broken neck, broken back, multiple concussions, the list goes on). I'm happy that fear isn't much of an issue in my real estate/dad life. But I'm still focused on improving my mental game. These days, I'm working on patience, which is something many parents of toddlers can probably relate to.
Change is hard. I always wanted to get into real estate after sport, and I love my job. I got married in 2014, and my wife has been amazing in helping me transition to life after sport.
Now that we've started a family, my life is now more fulfilling than ever.
The key to it all is balance.

Join the conversation, and be inspired to think about your wellness!
Share what balance looks like to you, using #AHSwhatsyourbalance on social media. Or visit www.ahs.ca/whatsyourbalance to download the Wellness Scorecard to get started on your path to finding balance.
Disclaimer: Please note the 'What' your balance?' blog posts are views of the authors only, and should not be considered as formal advice and instruction. Readers should consult with appropriate health professionals or dial 811 for Health Link on any matter related to their health and wellbeing.