Achieving Balance Amid the Busyness
Tuesday, February 13, 2018 1:48 PM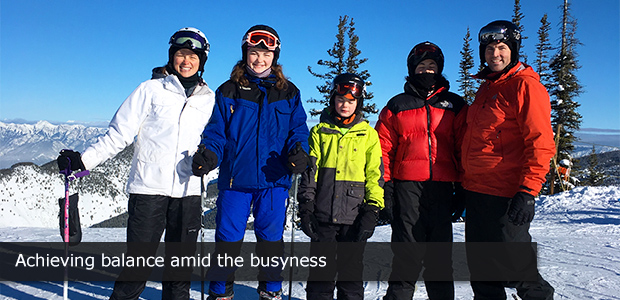 Life is pretty crazy these days with three kids aged 15, 13 and 10. They're involved in hockey, basketball, lacrosse and volleyball, and I help coach my daughter's basketball team.
My days are spent working and our evenings are spent driving back and forth to kids' activities, arranging carpooling and cheering them on as hard as we can.
There's a never a dull moment and having them involved in sports has taught them a lot. I hear some people talk about there being so much drama in their lives with kids this age. I find, by having them involved in sports, there's not much time for it. The kids are too busy with school, going to practice, and hanging out with their teammates.
As crazy as our lives are, it's a good crazy and not a bad crazy. We find our balance.
Most of the time, my kids seem to know the healthy choice is going to help them feel better and play better. It's not that we don't eat treats. We like treats too, we just don't eat them every day.
Right from a young age, my kids have been helping in the kitchen with meal planning and cooking. Even my youngest can throw together a meal like scrambled eggs and salad with whole-wheat toast if it's a rush night. Having everyone able to contribute takes the burden off me and my husband. A meal doesn't have to be fancy or take a lot of time to taste good. By being involved, they also have a solid appreciation of how much work it takes.
In order to keep us all fed, there's a lot of planning involved. We try to make meals for a few nights — along with making sure we have leftovers for healthy lunches. I also use my slow cooker to put meals on in the morning. When we don't have much time, we grab what's quick and easy. By having healthy choices like fruit, veggies, nuts and milk available, we are making that the easy choice. When we go to a tournament, we usually don't know what food is going to be available. Our choices are limited if we don't come prepared with snacks. If there are good options to choose from at the venue, we can eat there but otherwise we always have something to tide us over.
Being involved in sport can teach kids that we can be strong and fit at any size. For example, my daughter and her teammates appreciate their bodies for what they can do like acing a volleyball serve or blocking a shot in basketball. Making good food choices is just one part of reaching goals in competition.
My husband and I try to model healthy behaviours, too. It's not about telling our kids to eat healthy and then skipping meals ourselves. We try to eat as a family whenever possible and be active with them. As parents, it's our responsibility to provide healthy choices -- our kids get to decide how much they're going to eat.
I like to look at the big picture. It's about building healthy habits. I figure if our kids enjoy being active and they can feed themselves well, then they have two key tools for a well for a balanced life.
Join the conversation, and be inspired to think about your wellness!
Share what balance looks like to you, using #AHSwhatsyourbalance on social media. Or visit www.ahs.ca/whatsyourbalance to download the Wellness Scorecard to get started on your path to finding balance.
Disclaimer: Please note the 'What' your balance?' blog posts are views of the authors only, and should not be considered as formal advice and instruction. Readers should consult with appropriate health professionals or dial 811 for Health Link on any matter related to their health and wellbeing.