Taking The Stress Out Of Diet Restrictions
Monday, March 19, 2018 10:48 AM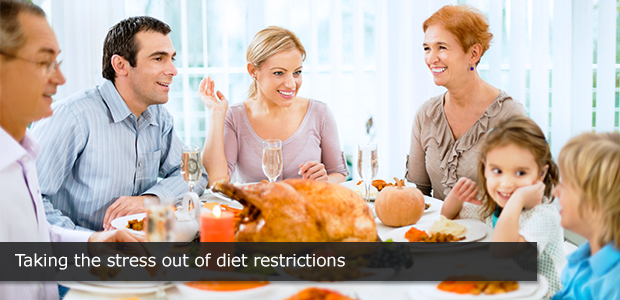 In my last blog, I shared some tips for overcoming obstacles to healthy eating – my obstacle being celiac disease. This week, I'd like to focus on tips for taking the stress out of a diet restriction so that you can still enjoy and embrace food.
Pack it up
With a condition like celiac disease, I might not know if gluten-free options will be available when I am out and about, at work, or travelling. I am in the habit of always having healthy, gluten-free snacks with me, like fresh, canned and dried vegetables and fruit, single-serving yogurt and cheese, gluten free granola or nut bars, gluten free crackers, nuts, and dried chickpeas or edamame beans. This way, I know I will always have a healthy option in a pinch.
Speak up!
The best way to know if there will be safe and acceptable food options at a party, meeting, conference or restaurant, is to ask. Asking gives me peace of mind to know that I will have a gluten-free meal available, or will give me enough notice to plan to bring my own. Often when people are aware of the situation, they will do their best to accommodate different dietary needs.
Share
It is important that people with diet restrictions don't feel isolated and are still able to enjoy meals with others. March is national Nutrition Month and a focus of this year's theme is the potential for food to bring us together. Sharing meals with others connects people and also helps us eat a more balanced diet. For example:
Children who eat with their family have healthier diets, better academic performance, a lower risk for being overweight and a lower risk of eating disorders.

Teens who share family meals get better grades, and are less likely to smoke, use drugs or alcohol, or to participate in serious fights.

Adults who eat with friends and family tend to eat more vegetables and fruits, drink less pop, eat fewer meals at fast food restaurants, and have healthier body weights.
Most studies done on the benefits of family meals start with sharing at least four meals together per week.
Families and groups with someone with celiac disease can enjoy gluten-free foods together. For example, if you all love pasta, you can find a pasta made out of gluten-free grains, lentils or beans that everyone can enjoy. Not everyone needs to follow a gluten-free diet, but you can find ways to experience food together.
My family loves tacos and after my diagnosis, we enjoy tacos even more! We just use our new favorite soft corn tortillas instead of wheat tortillas. We find it easiest to eat gluten-free at home, so that we are not making separate pasta, pizza, or bread for each person, but my husband and daughter do enjoy gluten-containing foods when they are away from home.
This approach works for us. Other families will find an approach that works for them, but I think the main thing is that there is still a focus on sharing food and eating together.
What works for you?
Join the conversation, and be inspired to think about your wellness!
Share what balance looks like to you, using #AHSwhatsyourbalance on social media. Or visit www.ahs.ca/whatsyourbalance to download the Wellness Scorecard to get started on your path to finding balance.
Disclaimer: Please note the 'What' your balance?' blog posts are views of the authors only, and should not be considered as formal advice and instruction. Readers should consult with appropriate health professionals or dial 811 for Health Link on any matter related to their health and wellbeing.