Eating healthy in a busy world
Wednesday, March 28, 2018 1:41 PM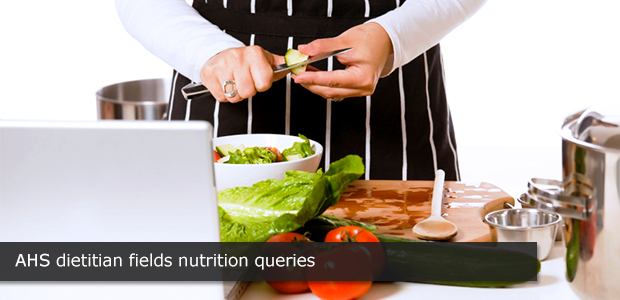 Healthy eating can be challenging. Our schedules are often packed and making the right choice can be hard. Check out the videos from our first Facebook Live event held on March 22, or our second held on March 27 where both staff and the public asked their burning nutrition and healthy eating questions. Thank you to all who joined!
Here are some questions from participants in our second event.
Question: I tend to make unhealthy choices when I'm feeling angry or upset. Any recommendations on how to resist making those choices?
Emotional based eating is a tricky situation to assess, as everyone experiences different triggers and responses to those triggers. If you would like to start working on this, I would recommend starting a food and mood journal where you can track how your emotions are influencing your food choices. Recognizing what triggers you is a great first step. I would also suggest gathering support from friends and family around you to help during those moments. Having the positive support of someone, even a colleague, to talk through whatever is challenging you, can help you move past those feelings or desire to eat something unhealthy.
Question: I don't eat dairy, where can I get calcium?
Calcium is important for many aspects of health, especially your bones. There are many ways to get calcium without eating dairy products.
Here are the top sources
• Vegetarian beverages such as soy, almond, rice, hemp, coconut etc. These adult beverages are often fortified with calcium, but be sure to check the label because it's not mandatory!
• Tofu. Made from calcium rich soybeans and set with calcium, tofu can provide a lot of calcium to your diet.
• Salmon or sardines, canned with the bones. Crush up the bones and eat them anyways you like them (I like fish on toast) for a great sources of calcium. 200mg in 75g
• Nuts – almonds, and brazil nuts
• Beans – Navy, white or soy
• Cooked greens such as spinach, turnip greens or bok choy
• Calcium fortified juice such as orange juice can help those struggling to get enough calcium. ½ cup can add 100-200mg of calcium daily.
Most adults can get enough calcium by two servings of dairy products per day.
Question: It's cold and flu season. Is there anything I could be eating to protect myself from getting sick?
Nutritionally, your body's immune system will work its best when it's getting all of the vitamins and minerals a nutritionally balanced diet can provide. Almost all micronutrients play some role in ensuring optimal immune response. Eat balanced meals throughout the day including all food groups from Canada's Food Guide.
Vegetables and fruits are particularly important as they are high in antioxidants which play an important role in your immune system. Some excellent vegetables to include are sweet peppers, oranges, strawberries, kiwi and broccoli.
Probiotics are also being heavily researched in their role in immune function. Probiotics are live bacteria or yeasts that are good for your health by affecting the gut bacteria and affecting the immune system. Foods with probiotics to include daily are yogurt with probiotic cultures added, as well as Kefir.
Being physically active and getting enough sleep also have benefits to your immune system.
Question: When should I introduce my baby to solid foods? Some of my friends are starting their babies at 4 months?
Babies can be started on solid foods around 6 months old, when they are showing signs of readiness. Although some doctors may recommend starting at 4 months for specific babies based on their medical history, experts agree that around 6 months is the ideal time for babies to have their first foods.
Some signs of readiness are:
• Has good head control (is able to turn head away if not wanting to eat)
• Sits up with little help (such as in a high chair or baby chair)
• Opens mouth when food is offered
• Moves food to the back of the mouth with her tongue
Question: What are your top two healthy eating tips for shift workers?
Prepare to stay hydrated and well-nourished throughout your shift. This starts by planning and buying foods to stock up at home, to then pack for work. Coming prepared will help you avoid vending machine snacks or fast foods which tend to be less nutritious choices.
Try to eat your main meal while you are not at work. For example, if you start the night shift at 7pm, eat your main meal around 6pm. During your shift, bring healthy snacks to eat during your breaks which combines protein and carbohydrate. For example, have fruit and cheese or veggies with hummus.
Stay hydrated with water. It's easy to go overboard with caffeine, especially when you are working shift work. Drinks such as coffee, tea, iced tea, pop and energy drinks all add up, and may make it harder to sleep after your shift.
---
Join the conversation, and be inspired to think about your wellness!
Share what balance looks like to you, using #AHSwhatsyourbalance on social media. Or visit www.ahs.ca/whatsyourbalance to download the Wellness Scorecard to get started on your path to finding balance.
Disclaimer:
Please note the 'What' your balance?' blog posts are views of the authors only, and should not be considered as formal advice and instruction. Readers should consult with appropriate health professionals or dial 811 for Health Link on any matter related to their health and wellbeing.