Lending a hand, finding a smile
Monday, April 16, 2018 8:58 AM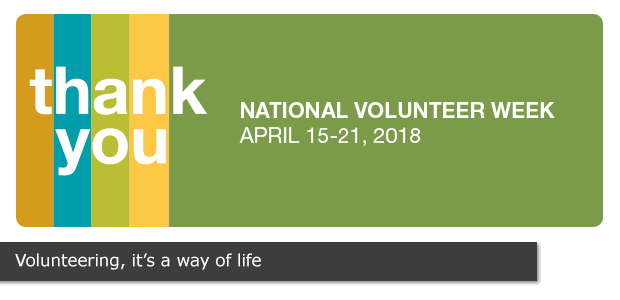 Join Alberta Health Services as we celebrate National Volunteers week, April 15 – 21.
Have a volunteer who has inspired, uplifted or supported you? Post a comment on ThanksforCaring@ahs.ca.
---
Like all of us, my name is my first identifier; it distinguishes me from you, it's what I respond to when called, and my family connection.
Also like all of us, the titles connected to my name have changed, evolving over the course of my life in equal step as time marches me forward into different roles.
Son, husband, father, immigrant, chef, RCMP officer and friend.
For the past twenty years, one title I am particularly proud of has remained – volunteer.
While the volunteer title has remained, the roles I have been involved with have varied - shifting from volunteer work preforming Red Serge duties and teaching the DARE program (Drug Abuse Resistance Education) to grade five students during my career with the RCMP - to my role today as a facilitator for the Alberta Health Services Red Deer Hospital bereavement program.
My current volunteer role is a natural fit, blending my training and position as victim services coordinator with the RCMP together with my experience of significant personal loss in my own family - father, mother, sister, two brothers, friends and colleague - that have punctuated moments throughout my life.
Offered at the Red Deer Hospital, the bereavement program runs over eight weeks and discusses various topics like identifying stress relievers, family dynamics and moving forward. All topics are discussed in a safe and healing environment, and we offer resources and exercises to support each discussion. For our participants the program is a safe space to process the different stages of grief, and a unique opportunity for bonding, learning and healing while hearing each other's stories and experiences with loss.
As a volunteer facilitator, this program is my chance to lend comfort, support, and help to those currently experiencing the deep pain of losing a loved one.
While it can be emotionally difficult, this program is also rewarding. I have watched with pride as an individual unable to laugh or smile on week one, be the same person leaving on week eight able to crack a joke or offer a soft smile in response to a funny moment.
To the rest of the world, this might not seem like a big win, but it truly is. It's a positive shift towards healing, peace and happiness – a true success story - and for me, it's a powerful, inspiring moment.
Besides my role as a facilitator, I also do volunteer work as a home care community visitor. This role connects with me patients and seniors who require extra assistance with medical appointments, grocery shopping, fixing simple things in their rooms – like the TV, hanging pictures or packing – and just simple socializing.
While I mentioned that volunteering is a title I am proud to hold, it's so much more than that. It's my chance to help others who are struggling or simply need a person to talk to. It's also my way to give back to the community who offered support for myself and my family during difficult times. I am grateful for all of my experiences as volunteer and look forward to many more years of volunteering to come.
---
Want to find out more about volunteering at an AHS site or facility in your community? Check out the Volunteers page on the AHS website for more information.