Making time for mental health
Monday, May 7, 2018 9:32 AM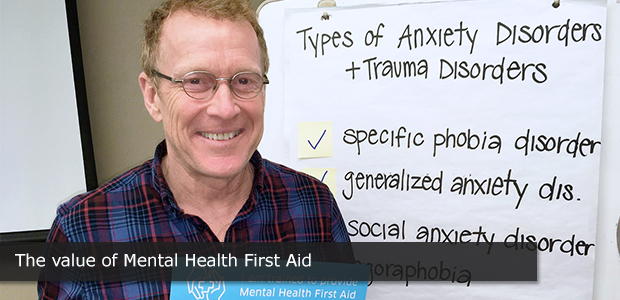 Having been in the social work and healthcare fields for almost 40 years, I consider myself of the 'veteran generation.' I've learned many things along the road – in Canada and further afield – but above all else, this: if we want to care for others, we have to take good care of ourselves first.
This was a key part of the Mental Health First Aid (MHFA) training I recently attended in the North Zone. I signed up because I was curious about the course and how it was set up to inform people from diverse areas of the healthcare world. As a leader, I like to be as accessible as possible and it was also a good chance to spend some time in Grande Prairie and connect with AHS staff from around the Zone.
The course was great, informative and fun. I recommend it to all my AHS colleagues. It's a two-day experience, but one that could create a lifetime impact. Healthcare is an emotional business and people are, understandably, passionate about their health. Our people, particularly on the front lines, often confront emotionally charged situations. MHFA provides a basic toolkit with resources to help us all engage effectively with people who may be struggling. I'm proud that AHS encourages its staff members to learn these skills.
There aren't very many Canadians who are not touched by mental health issues in some way – in their family, their social network, even with a stranger whose path they cross. MHFA was created by the Mental Health Commission of Canada because of this.
Mental health is something we need to work on together, as an organization. As colleagues and teammates, we have to be very deliberate about how we take care of each other, and ourselves. I really believe in building on strengths. It can never hurt to add to your toolkit to be able to effectively assist someone experiencing a mental health issue. You don't have to be a frontline healthcare provider to encounter this, by any means.
For me, work-life balance is huge. I'm a runner and I've come to realize that my fitness routine needs to be a priority in my life. At work I try to be a role model for a healthy lifestyle. If I have booked time to run, say at 7 a.m., and someone thinks that's an important time to have a meeting, I'll do an assessment of the situation but I won't necessarily agree to the meeting if it compromises my ability to take care of my own wellness. And I'll say that and have that conversation.
Really, the more we talk about mental health, the better. And if you haven't taken Mental Health First Aid, why not think about attending a course? They're offered throughout the Zone. Look for one on the schedule at http://www.mentalhealthfirstaid.ca/ or contact jody.walker@ahs.ca for more information.