Collaboration at Foothills Medical Centre leads to new biking facilities
Thursday, August 30, 2018 9:42 AM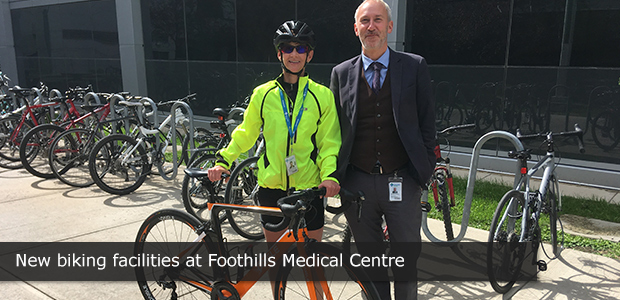 Kristine Cannon, Infection Control Professional, Infection Prevention & Control with Michael Suddes, Site Director, at Foothills Medical Centre are members of the team partnering on this collaborative project.
Foothills Medical Centre (FMC) is rolling in some new storage, bike storage that is. This fall, FMC will open 95 new Class 1 secure bike storage stalls in the new Central Parkade. In continuing with this movement and planning for the future, the new Calgary Cancer Centre projected to open in 2023, will also include additional on-site bike storage.
Over the years FMC site leadership has seen a steady increase in staff and visitors biking to the facility, and identified a need to accommodate, and encourage this healthy approach of active transportation.
To learn more about this health and wellness initiative, we sat down with Michael Suddes, Site Director at FMC.
How and why did the FMC Bike Strategy get started?
The initial idea of including bike storage in the new Central Parkade was to provide a better experience for people who are currently biking to and from work or visiting patients in the hospital. We also wanted to inspire others to bike more often.
It also ties into the Alberta Health Services (AHS) 2017-2020 Health Plan & Business Plan. We encourage Albertans to be co-partners in their health and focus on their overall health and wellness. This initiative helps support that plan.
You are currently in the planning stages, what is your ultimate goal for this program?
Our first priority is to develop a strategy for the site that documents the current experience for bikers at FMC, set realistic and achievable goals for the next five years and also outline the ways we will achieve these goals. Overall we would like to see more bikers riding to FMC while enjoying a better experience.
In the fall, we plan to open a new Class 1 secure bike storage facility (secure bike lockers) for staff that will accommodate 95 bikes in the new Central Parkade. AHS stakeholders are also working with the Project Management Office and the Calgary Cancer Centre design builders to repurpose an existing building on-site to create an FMC Cycling Centre. This will be adjacent to the new Cancer Centre, and house over 200 Class 1 bike stalls for staff when opened in 2023.
Lastly, we want to create a bike-positive environment that's safe, accessible and easy for staff, physicians, volunteers and visitors to utilize. We want FMC to be a bike destination and reduce the amount of cars parking on-site.
Your team has been collaborating with the City of Calgary, Bike Calgary, Foothills Medical Centre cyclists, associations and other expert groups. How has this process changed your approach and made it more of a collaborative city-wide initiative?
This process isn't any different than our other processes when it comes to projects. We meet regularly with the City of Calgary, University of Calgary, Ward 7 Office, Community Associations and expert groups to talk about major capital projects in the city, including this project. These partnerships allow us to move forward in a collaborative manner. All partners have been very encouraging and supportive of our bike initiative. We rely upon this quality of collaboration with all major capital project planning priorities.
What have been your biggest challenges throughout this process?
We were able to get this work started in the right way because of the partnerships that have been built over time. It's important for us to ensure everyone has a chance to be heard. We will need to collaborate to identify funding sources for some of the project but the two significant improvements in storage in the Central Parkade and the FMC Cycling Centre will help. The bike strategy will provide guidance in identifying the other important opportunities we have on-site and how best to realize these opportunities.
What advice can you give to others who are looking to start this type of program at their sites or office buildings?
It's always helpful to see how individual projects work in the context of a broader strategy. For us that starts with engagement by getting buy-in and establishing partnerships as early as possible. This helps eliminate hurdles. Engage with service providers, end users and the broader community to understand the current experience, and set some priorities that can be tackled in a collaborative way. We are fortunate to have some capital project work at FMC which will directly improve the biking experience and help with our overall bike strategy. But even without this level of capital investment, taking a step back and looking at existing facilities is helpful. In some ways you don't need to build new to make existing buildings work better.
---
Learn more about the new Central Parkade and Calgary Cancer Centre.
Please note: Due to the wildfire smoke, follow your local advisories and recommendations for outdoor activity.
Join the conversation, and be inspired to think about your wellness!
Share what balance looks like to you, using #AHSwhatsyourbalance on social media. Or visit www.ahs.ca/whatsyourbalance to download the Wellness Scorecard to get started on your path to finding balance.
Disclaimer: Please note the 'What's your balance?' blog posts are views of the authors only, and should not be considered as formal advice and instruction. Readers should consult with appropriate health professionals or dial 811 for Health Link on any matter related to their health and wellbeing.