Reflections on volunteering for National Volunteer Week
Monday, April 1, 2019 10:55 AM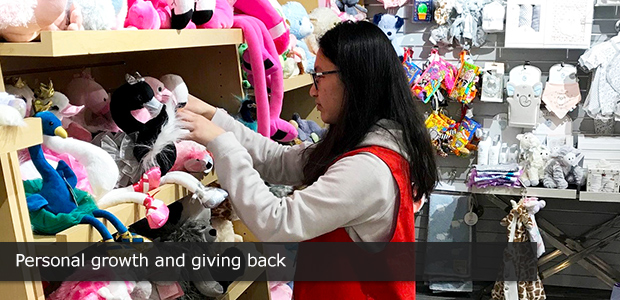 AHS is celebrating volunteers during National Volunteer Week, April 7 – 13.
If you would like to give thanks to a volunteer who has made an impact, you can post a note of gratitude on thanksforcaring.ca
Spring is synonymous with the first snowmelt of the year, blooming flowers, lengthening days – it's also known as the season for beginnings and growth.
So it's no wonder that it was spring when I applied to the retail youth program at the Foothills Medical Centre. Since then, I've come to reflect on all the things that I've been able to do over the past two years as part of my volunteer role – and there's a lot.
From my first professional interview to being placed in a real world setting interacting with customers to advancing as a junior leader in my second year, the time I've spent volunteering in the Red Thread Engaging and Developing Youth (READY) Program has provided me with the opportunity to explore my interests and even prepared me for life after high school.
Whether my customers are patients who have recently undergone an operation, family and friends browsing for the perfect gift, or staff members looking for a quick bite, my role is to provide an oasis away from the stress of the hospital. That's the "nice way" of putting it.
In reality, the entire operation includes tending to customers, operating the tills, restocking supplies, updating store displays, maintaining the shop's aesthetic appeal, working in the stockrooms, and keeping inventory of finances at the end of each shift.
Although that may sound daunting, there's always someone to help since you rarely work alone. One of my favourite parts about volunteering is that you get to meet different people. In fact, individuals whom I would ordinarily never get the chance to talk to have become some of my closest friends.
The youth leaders in my first year even acted as mentors for me in regards to the program and outside of it. They inspired me to continue into my second year, where I managed to become a youth leader myself.
Fittingly, my new role as a leader has also come with increased responsibilities. Juggling school work, extracurricular activities, and volunteering has taught me how to be flexible and manage my time better. Moreover, being accountable for myself and my team has made me more aware of my actions. The most important lesson I've learned, however, is to try new things and expose myself to situations I'm unfamiliar with.
Now, in the spring of 2019, I find myself thinking about how much I've grown. I may have initially thought of simply accumulating volunteer hours for school, but now it's turned into a simple desire to give more than I receive. The way I see it, volunteering is first understanding you have the means and ability to give, and then actually doing it – without asking for anything in return.
As I am currently in my final year of high school, I also recognize that volunteering has played a role in allowing me to build the proper connections and skills needed for post-secondary. Indeed, it has greatly helped me in applying to various universities, including pharmacy at the University of Waterloo or the business and humanities program at McMaster University.
Regardless of what path I choose, I am sure my experiences in the READY program will help me overcome any future challenges, because as I close one chapter of my life, another begins.