The fabric of nursing in technology
Wednesday, May 2, 2018 2:30 PM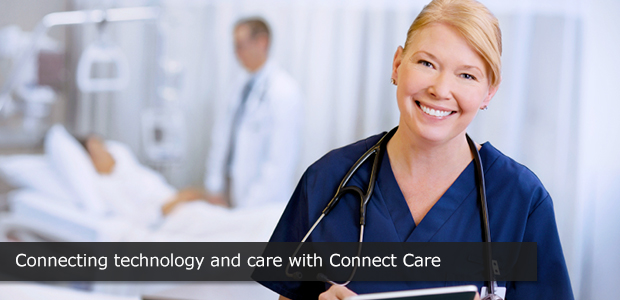 I'm a Registered Nurse; one of many currently involved in the planning phase of Connect Care.
Connect Care is a key Alberta Health Services (AHS) initiative that will transform how we deliver care by using a single stop, health information network –. Essentially, it's a common provincial clinical information system (CIS). Think of it as a bridge between information, healthcare teams, patients – and the future, which will enable consistent practices and sharing of patient information and treatment across Alberta, effectively improving the care we provide for all.
As a nurse, I find the potential of this CIS exciting. To have all the information we need, when we need it, is incredible.
From basic information like name and age, to the more comprehensive of medication history and a timeline of what has – or hasn't been done - play a key role in the care we provide our patients. However, current processes mean that information is not always readily available. A nurse can spend a significant amount of time finding the information we need to make the right decision – the safest decision – for our patients.
I see Connect Care shifting this scenario on its head. Nurses and other health professionals will be able to spend more time with their patients and less time looking through stack of papers in a chart or on a phone tracking down crucial details. To have a clearer understanding of a patient's needs - available at their fingertips - will increase a nurse's ability to make impactful, intelligent and evidence-based decisions supporting treatment and care.
Because nurses regularly play a primary role of patient advocate, this shift to share information regardless of where a patient may have originally received treatment is huge. As this advocate, we are intimately privy to the changes in their health, their hopes and fears, and any family concerns.
Having that connection with our patients means we are in a position to use information to understand and tailor care to each patient's specific needs, or relay information to the attending physician and others on the collaborative care team, to achieve health goals.
Simply put, better health, powered by better information.
In the various decision-making forums that's helping create Connect Care, the contributions of nurses are evident. They have been passionate, articulate and thoughtful about how they would like to see this new technology support their practice and the care they provide, now and in the future.
This year's theme for National Nursing Week (May 7-13) is #YesThisIsNursing, and speaks to the expanding traditional and non-traditional roles for nurses, but also the unique opportunity nurses have with emerging technology.
With AHS preparing for this major change involving practice and technology, National Nursing Week has become an opportunity to reflect on the contributions nurses make in modern healthcare and their relationship with technology.
While advancements in technology are captivating, we should focus on how the technology will support, and even amplify, nursing expertise and care.
In modern healthcare, complex health needs mean nurses must be able to process multiple streams of information, make critical decisions, analyze outcomes and form new knowledge all to provide the best patient care. This knowledge is not based in a technology but rather within the nurses themselves. Connect Care is not intended to, nor can it ever, replace the expertise of nurses, but can instead strengthen their role as new insights about their practice become available.
Cherished by patients and their families, the impact of nurses has been difficult to quantify in the past. Information captured in Connect Care will act as a beacon of light, highlighting nursing contributions and making their true value visible. I hope this visibility becomes a powerful point-of-pride for nurses.
We can take ownership for the significant contributions we make, individually and collectively, and hold true to #YesThisIsNursing.
As exciting as Connect Care is, technology should be seamless in the moment-to-moment interactions nurses have with patients, families, communities and other healthcare providers. The fabric of these interactions are composed by the threads of nurse professionalism, expertise and caring. Nurses should proudly wear these threads in whatever roles they play, ensuring and protecting the health of Albertans.
Thank you, nurses, for everything you do. Have a wonderful National Nursing Week!