Royal Alexandra Hospital Foundation funds renovations, surgical training at Eye Institute of Alberta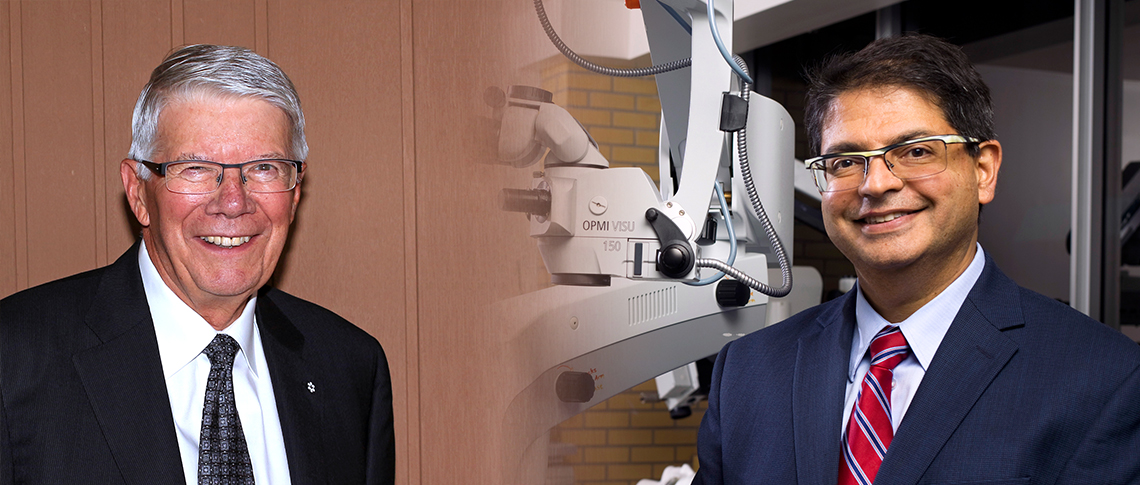 Story by Kerri Robins; Photo by Darren Jacknisky
EDMONTON — When his vision began to deteriorate in 2007, Cal Nichols thought it was simply a part of aging.
But after a checkup at what is now the Eye Institute of Alberta — a tertiary centre at the Royal Alexandra Hospital (RAH) — Nichols quickly discovered his condition was far more serious.
"What I thought was just part of the aging process turned out to be a detached retina," says the 72-year-old Edmonton businessman. "I was subsequently diagnosed with Fuchs Corneal Dystrophy (a condition where the innermost layer of cells in the cornea start to degenerate) — and I'm so fortunate for the quick efforts at the institute to save my vision. My followup care has been outstanding."
Patient care is the No. 1 priority of the eye institute, which is now the focus of a $4-million campaign launched by the Royal Alexandra Hospital Foundation late last year.
"Strengthening patient care is at the core of what we do," says Dr. Karim Damji, Clinical Section Head of Ophthalmology at the Royal Alexandra Hospital.
"We are looking to the future and positioning ourselves to offer the services that patients with more complex problems require," he says. "For example, high-risk patients, those with cancers, challenging retinal detachments and cataracts, as well as seniors requiring specialized care who have complex general health conditions."
The Eye Institute of Alberta, formerly known as the Regional Eye Centre, opened in 1995 at the Royal Alex. Funds raised from the campaign — which Nichols co-chairs — will support three priority areas:
$2.3-million renovation to existing space;
$1 million to support the Ophthalmic Surgical Skills Centre;
$700,000 to support innovation, education and research funding.
"We've been continually investing in our patient care, our student and staff education, and in research to improve vision-related quality of life," says Damji, also a professor and chair of Ophthalmology and Visual Sciences at the University of Alberta. "This campaign will help further these goals."
Haily Nguyen, Patient Care Manager of Ophthalmology at the hospital, is pleased with the proposed renovations, which are expected to get under way late this year or in early 2017.
"Along with improved esthetics, layout and flow, our waiting rooms will see more chairs added for the comfort of patients' and attending family members," says Nguyen. "The renovations will also help improve access for patients with mobility issues, and a play area for children is being created."
The skills centre will be equipped for students to learn and practise more precise surgical techniques using 3D virtual reality — an approach which excites Dr. Carlos Eduardo Solarte, Director of the Residency Program of Ophthalmology.
"We want to facilitate on-site e-learning with state-of-the-art technology and equipment," says Solarte, "for example, student stations will include cameras to capture what students are doing and display the activity on a smart board."
He adds that students will also be sent to smaller communities to do their practicums.
"Because many of our patients come from rural areas, it's important for students to study in these areas to gain a better understanding of their patients," adds Solarte. "It may also encourage some students to practise in these small communities after their training."
The institute currently sees about 45,000 patient appointments a year and treats about 3,500 patients per month. It serves patients from central and northern Alberta as well as the far north and northwest B.C.
Andrew Otway, President and CEO of the Royal Alexandra Hospital Foundation, lauds the work done at the institute.
"For many years, the foundation has been proud to support the excellent work being done at the Eye Institute of Alberta," says Otway.
"We value our partnership with the University of Alberta's Department of Ophthalmology and Visual Sciences, a relationship that has led to many benefits and improved outcomes for patients seeking eye care at the Royal Alexandra Hospital."
For information, visit www.royalalex.org.