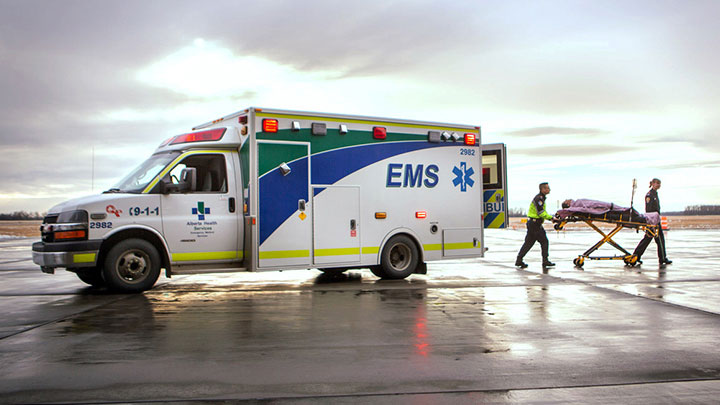 EMS System Pressure & Mitigation
AHS EMS continues to address ongoing system pressures and create capacity within the system, working on the initiatives first outlined in the EMS 10-Point Plan. This work is focused on managing high volumes of EMS calls, freeing ambulances up for urgent care needs and ensuring our EMS workforce is robust and well supported. Innovative thinking and operational efficiencies are already helping ease pressures.
---
Alberta Health Services (AHS) Emergency Medical Services (EMS) brings care to people and people to care.
Every year, more than 5,600 EMS professionals support nearly a half a million emergency and transfer calls, both on the ground and in the air.
From the emergency communications officers (ECOs) who answer the phone when you call for an ambulance, to the front line paramedics who respond to help, AHS EMS works together to make sure Albertans get the right care, in the place, at the right time.
This webpage shares information and stories about the work AHS EMS does and performance data showing how effectively we are providing.
---
Alberta Health Services (AHS) Emergency Medical Services (EMS) is constantly working to improve the high quality care Albertans receive every day. Many different factors go into measuring the level of care and satisfaction provided by EMS.
AHS is publicly posting six EMS-specific performance measures in the form of a performance dashboard.
These measures reflect key areas within EMS that are important measurements of patient safety and care.
The measures will be used to guide work around improving the quality, safety and timeliness of ambulance service across the province.
The data will be updated quarterly and reviewed annually to ensure it continues to be realistic and challenging.
---
---
Ask a Paramedic
Ask a Paramedic is an opportunity for Albertans to learn more about AHS EMS and the care it provides.
---
Your EMS
Your EMS is a behind the scenes look at the men and women who provide this care, as well as the equipment, tools and programs used to help ensure you get the right care, in the right place at the right time.
---
Thank a Paramedic
It all happened so fast. You called. They came. They helped. And they were gone. And you didn't get a chance to say thanks. Now's the time to pay tribute to over 4,000 life-saving paramedics across Alberta. Show your appreciation by sending a thank you note right here, right now.
---
---
Latest News