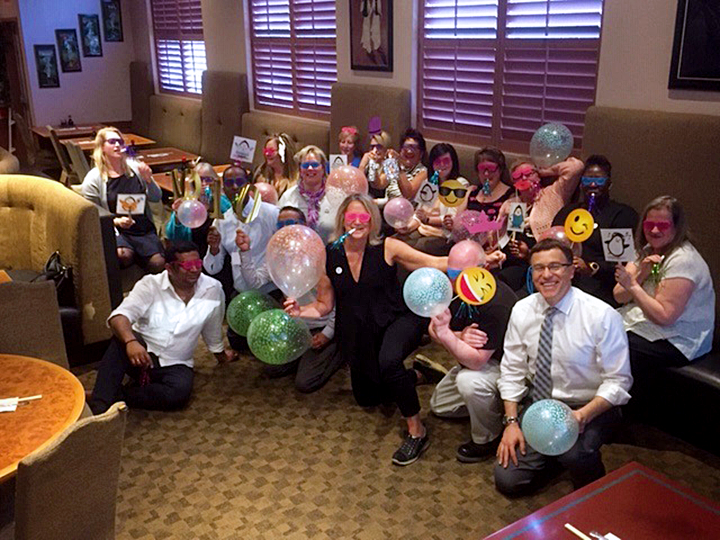 Patient Food Services, North Zone
We would like to THANK and RECOGNIZE our North Zone team of Patient Food Service Supervisors! Their dedication and relentless effort to provide exceptional services to our patients and residents is greatly appreciated. We are proud to be part of this provincial team of excellence. We work hard and we celebrate hard!! #10Together #WeAreAHS
Moneta Mondejar
Food Services
"10 year…it's incredible journey, through all this ups and downs, I absolutely couldn't have done it without other people."
Maria Galley
Unit Manager, Cardiology
"It is a pleasure to be part of the Unit 71 team at Rockyview General Hospital. This interdisciplinary team is so positive, collaborative and patient-centred. They love what they do – and it shows. It is an honour to work with them every day."
Dr. Harrison Applin
Director, Nursing Professional Practice, Health Professions Strategy and Practice (HPSP)
"I am very grateful for the health care system in Alberta and the value AHS exemplifies in care delivery. AHS has proven to be a change agent in promoting health and education, which are fundamental pillars for a progressive, sustainability and prosperous Alberta. This important work adds value for excellence in care and is a significant reason why AHS is perceived as a catalyst in health transformation in Canada. AHS is a pillar in supporting quality of life for all Albertans and their families!"
Rosie Thornton
Program Manager, Central & Site Services
"I'm very grateful for the wonderful team in Central & Site Services that I am privileged to work with every day! I see dedicated, caring, compassionate individuals who, without question, go the extra mile to ensure safe patient care, staff and patient support, and a collaborative workplace. Thank you for being all that you can be – and more. Our patients and colleagues deserve nothing less than our best effort, which you demonstrate daily. Thank you for being the best team I could have imagined!"
Jackie Clark
Addiction and Mental Health Provincial Clinical Consultant
"I remember working on Adult Psychiatry in-patient unit in 2009 when the first Addiction Counsellor, Christina, came on to the unit. I said to her "Welcome! We've been waiting for you!" because so many of our clients had substance use issues. Christina and I had many conversations about addictions, she coached me on how to talk about substance use with patients and we co-led a discussion group. I am thankful for those early years working collaboratively with addiction colleagues."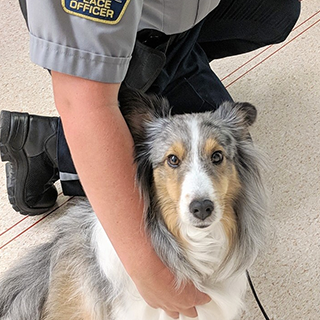 Tanya and Sam
AHS Volunteers at Peter Lougheed Centre
"My husband and I were volunteering with Community Therapy Dogs Society and Strathmore Victim Services when an opportunity came up at Peter Lougheed Centre (PLC) to take our six year old Sheltie, Darci, for visits. We started on the Vascular Unit and not soon after we were asked if we would like to try visiting the Emergency Department (ED) providing support to both staff and patients. It didn't take long before we realized how perfect this environment was for us and, of course, Darci. No matter how incredibly busy this ED is, the staff remains kind, yet efficient, with patients. Calgary Police Service, Emergency Medical Services (EMS), nursing staff, support staff, doctors . . . we are proud that Darci is considered to be part of the care team at PLC. A patient once said she was a "cuddle cure". Darci may not cure illnesses, but we love that she has become part of the healing process for many people and not just the patients."
Kathleen H.
AHS Volunteer
"I came to Canada from Northern Ireland via England in 2000. I wanted to give back to the community of Pincher Creek that had welcomed us, so I decided to volunteer. Volunteering for AHS has given me the opportunity to meet new and interesting people and I feel that, in my small way, I'm helping others. Also, as a patient, I have really appreciated the work volunteers do for our community."
Judy M.
AHS Volunteer
"Five years ago, I was a patient at Foothills Medical Centre (FMC) for two months, during which I needed three emergency, life-saving surgeries (over a three week period). During this time I also experienced delirium and sepsis. My illness was sudden and unexpected. I survived. It took awhile, but I decided to try volunteering with AHS as a Patient and Family Advisor, in part to see if I could turn what happened to me into something good. I have been a volunteer for a year and my current area of interest is Family Presence - I believe this initiative could have a positive impact on countless patients."
Karen M.
AHS Volunteer
"My son, Mark, and I have been volunteering with the sing along group at the Olds Hospital and Care Centre in long-term care. I started with the group over 25 years ago. I was hesitant at first but learned that the outer shell of a person just hides the true person inside. I learned this with my son who has Down syndrome. Music speaks to ALL people in some way no matter what our physical abilities or even appearance present to the public. Sharing our musical talents has been so very rewarding and allows both of us to do two of the things which we enjoy most = music and interacting with people. Thank you for this opportunity to share and to put a smile on someone's face!"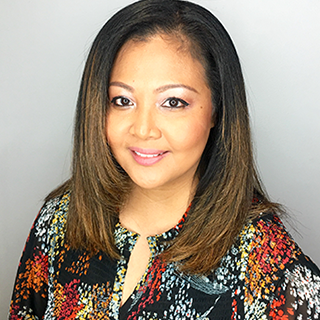 Rhodora Funcion
Project Manager, Improving Health Outcomes Together (IHOT), Quality Healthcare Improvement (QHI)
"One Friday afternoon in May 2015, I was out for a walk during my lunch break when I noticed a man flagging me down for help. He said to call 9-1-1 because there was a young man wanting to end his life at the river's edge. His friend was trying to talk him out of it. I called 9-1-1 and informed the operator of the situation. She told me that an ambulance would be sent right away and to stay there in case EMS had some questions.
As we waited for the ambulance to arrive, I introduced myself and asked the young man if he needed anything. He asked me if he could borrow my cellphone to call his dad. All of a sudden the young man handed the phone back to me and said: "my dad wants to talk to you". The young man's father told me how thankful he was I came along to be able to help his son. I assured him that I would wait with him until the ambulance arrived.
The ambulance arrived and took the young man but before he left, he turned around and thanked us. As the ambulance drove away, I reflected on my experience, it occurred to me that whether we are in the workplace or not, we have a duty to help others—it's not a choice. It's a call to action at that moment when someone really needs our help."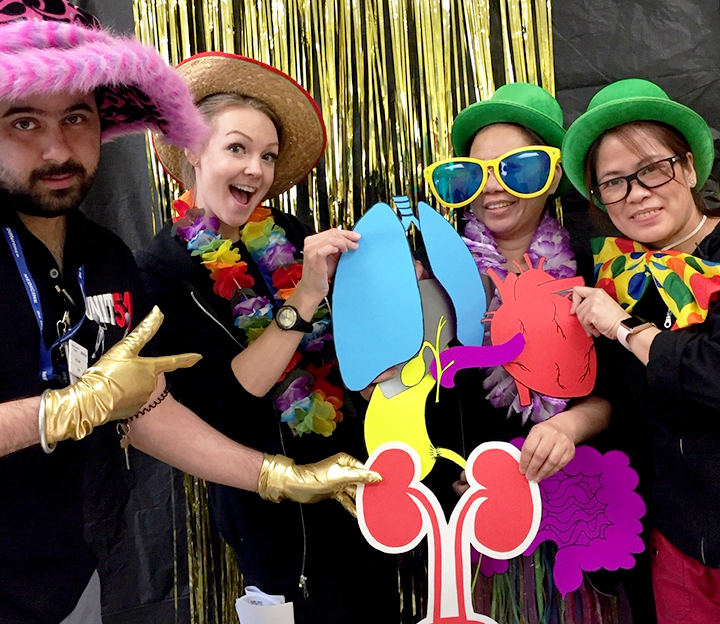 Anna King
Assistant Head Nurse
"This is our fabulous team of nurses and frontline staff on Unit 51 at the Royal Alexandra Hospital. I put together a photo booth of my own to catch a glimpse of all of their smiling faces. This team is unbelievable devoted to delivering exceptional family centered care to our patients. And I am so proud to work alongside this amazing team of hardworking individuals!"
Lisa Hari
Privacy Advisor, Information & Privacy
"Five months with AHS and I am loving my job! So grateful I have interesting work with a great team, awesome leadership, and contributing to the meaningful and important work that AHS does for Albertans! Thank you AHS! Happy Celebrations #10Together … happy I'm part of the AHS team."
Sondra Baker
Health Promotion Facilitator
"I want to recognize the Provincial Indigenous Wellness Core Cultural Competency Education Team that I am a part of. I've worked at various places in my almost 15 years in healthcare and I feel that the ICCE team is truly reflective of AHS's mission and values and loves what they do every day. At the end of the day they go home always seeking more ways to connect and grow in their deliverance of reconciliation and cultural safety. My coworkers and supervisor all try to make a difference each day and seek to provide cultural safety and competency in every single interaction they are a part of. I'm truly honored to be a part of this team."
Cassandra Feader
Administrative Assistant
"I'm grateful for the learning opportunities, opportunity to develop new skills and, best of all, the friendships I've made along the way in this journey. Happy to be part of Alberta Health Services and now Alberta Public Labs."
Heather Vint
Provincial Director Program Management, Community, Seniors, Addiction and Mental Health
"I wanted to take the opportunity to thank Dr. Yiu for the outstanding leadership she has provided to our organization. I was losing trust that our leadership team would be able to make AHS work and then along came Dr. Yiu! You have provided personable, accountable and respectful leadership. You have inspired me (and I'm sure many others) to keep moving forward and believe in our vision for AHS. Thank you for your service."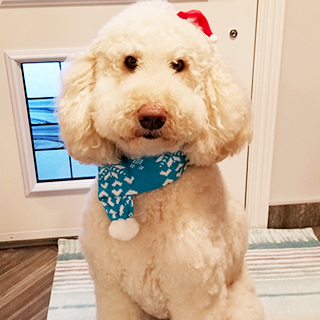 Laurie
AHS Volunteer
"My Australian labradoodle, Aria, and I are part of the dynamic team of therapy dogs and their handlers along with our supportive AHS volunteer Co-ordinators at the University of Alberta hospital. I love seeing the change in a patients' feelings when they are impacted by the love of our furry friends. The dogs are silent listeners and seem to know what the patient is needing in that moment."
Doreen R.
Previous patient now AHS Volunteer
"Seven years ago I was on life support at Foothills Medical Centre (FMC) ICU due to septic shock. Months, multiple surgeries and rehab later, I spent a lot of time informing myself about sepsis and felt the need to spread awareness. This evolved into an involvement with patient engagement activities and the beginning of my experience as an AHS volunteer. Subsequently I learned of the need for volunteers on the FMC Intensive Care Unit.
It is my pleasure to assist in the family area of ICU providing support, refreshments and guidance on accessing any needs. As a former patient I know what my family went through and how life provides challenges for families and friends of patients. It feels wonderful to be able to give back to this unit for the care I experienced and it has helped me immensely in my long term recovery by filling the gap in my memory of a time when I was too sick to know."
Christy S.
"I started right when the Calgary Health Region (CHR) was transitioning to AHS. It's in parallel to my career shift as well. Got my 10-year pin too! I'm so fortunate to have landed under the wings of supportive managers who had become my mentors and coaches. The teams I worked with, although diverse in many aspects, were all in together to perform to the best of their abilities. I have always been inspired by the outcomes at the end of the day. I am proud of what I have achieved so far and this was through the opportunities made available to an employee who strives to improve in what they do. So thankful to be a part of AHS organization!"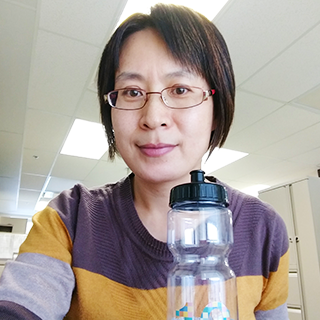 Celine Li
Clerk, Finance
"I moved to Red Deer from Montreal in February 2014. I applied for Alberta Health Card after a week. Then I received a letter stamped with "Confidential" from AHS right after that. I was invited to do a cervical screening. I was really shocked that I was provided health care services without any request at all. When I lived in Quebec for 3 years, I never had received this service. AHS, at that time, means care, respect, and dignity to me.
In April 2014, I was hired by AHS as a casual employee. That was my first job in Canada after I had landed in this country for 4 years. With tears in my eyes, I was able to connect health care with my job. In that summer, my daughter got a minor day surgery in the Alberta Children's Hospital. We were provided excellent services. The doctor and all staff comforted us kindly and my daughter recovered so fast and smoothly. AHS, at that time, means hope, love, peace of mind for me and my family.
In January 2015, I was transferred to a permanent employee. My husband was laid off right after this big transition. I've been almost the only person to feed my children and family for these years. Now, AHS to me, is not only a job, but also the life. I do know job is one part of life, not the whole life; however, for me it is the whole for my life because there is no job, no life, not mention to work and life balance. I love my job, and I am proud to work with AHS."
Jisoo Kim
AHS Volunteer
"I volunteer because I love serving and caring for those within my community. I learn a lot from volunteering, especially about the value in something as simple as a short conversation. Some residents have few visitors, so their appreciation for our conversations makes me feel that what I do is worthwhile and important. Whether it's by giving a manicure, going for a walk, or simply having a discussion, seeing the smile on a resident's face reminds me that it doesn't take much to lighten someone's day."
Heather Hair
Executive Director, Emergency Strategic Clinical Network (ESCN)
"I'm grateful for an organization that takes risks and is constantly looking at innovation to change and improve the healthcare system."
Michele Rasmussen
Registered Speech Language Pathologist
"Dear RCSD Team: You lovely ladies have made the last 10 years of my career amazing with the caring, passionate, professional, hardworking SLP's and TA's. We have had each other's backs through celebrations, disappoints, highs and lows of life."
Christine Farries
Sylvan Lake Advanced Ambulatory Care Manager, Site Leader Sylvan Lake Community Health Center
"Thank you to my team at Sylvan Lake Advanced Ambulatory Care for their hard work and team spirit since we opened our doors June 4, 2018!"
Jodie Wade
Senior Advisor, Our People Strategy Core Team, Workforce Strategies
"As we arrive on our 10 year anniversary, I reflect on my almost 4 ½ years with AHS. I have been blessed from the beginning to have wonderful leaders, and would like to take a moment to recognize each of them.
Chris Dunn, Director, HRBP Corporate/Provincial Programs is who hired me. He says I was the most challenging hire he ever made! I asked for every document and resource, I even interviewed a current employee to understand more about the role, and Chris was responsive to all of this as I considered the opportunity. Without his patience and support, I wouldn't have even began my AHS career. For that I am grateful. And once I joined, I was not disappointed. Chris was a great leader, always supportive, but allowed me the autonomy to do what I was hired to.
After 3 ½ years I moved into a new role and had the privilege of working with Peggy Mann McKeown on Our People Strategy Core Team. Her passion is infectious, and her ability to make connections across the organization is incredible.
After Peggy moved to a new role, I continue to be privileged with wonderful leadership in reporting to Sandra Jardine. Although we report from a distance, she is so supportive and encouraging. I am open to bring forward any idea and she allows me the opportunity to explore and be creative.
Along the way I've met wonderful clients and colleagues, too many to mention, but all who make my time with AHS a truly great experience. I've never regretted my decision to join AHS!"
Judelaine Estrada-Lopez
Therapy Assistant
"I would like to say thank you to Duke (Pet Therapy Dog) and his owner & handler, Sharlene. Duke has been volunteering here in Alberta Hospital Edmonton since he was 2 yrs. old. Imagine volunteering for 9 years already. He is smart and affectionate. He makes not just our clients happy but us, the staff, as well."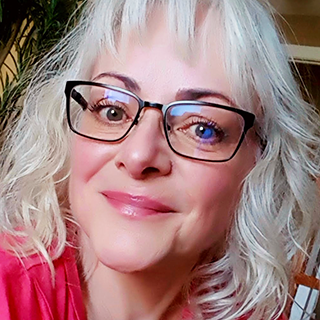 Linda Krieger
Coordinator, Volunteer Resources thanks Drumheller Volunteer, Judy
"I so appreciate Judy's genuine passion for her role. What a gift she has: she can often get residents who have no appetite to eat, using a gentle touch and encouragement. Judy has provided over 300 hours of assisting residents with meals."
Dwayn W.
AHS Volunteer from Stettler, AB
"I have been [volunteering] for almost a year and I love doing it. I have come to meet different people (some regulars and plenty of new people). I even like my co-workers."
Kevin
"I returned to my birthplace of Calgary as quick as I could (took me over 40 years) and after doing work in field of Radiation Oncology in 6 other clinics in 3 countries- I am delighted by the level of service and technical know how of my team at Tom Baker. I'm Surrounded by motivated, warm, knowledgeable professionals doing the best for our patients and their families with amazing technology. The future - and present - is bright for Cancer Care in Calgary."
Christine Duong
CPSM
"I enjoy coming to work every day knowing that I can make a difference in the life of all Albertans and helping improve healthcare by providing exceptional service, getting contracts for consumables and equipment for all hospital facilities to be able to assist patients. I am proud to work for AHS and very happy that I can contribute to health care to help out all Albertans."
Michael S.
Senior Program Director, Improving Health Outcomes Together (IHOT)
"I can honestly say I am proud to work in an organization with people that are always more than willing to try to continually improve. I am also privileged and blessed to be working with the IHOT team that help support this amazing work and inspiring vision. They are not just good at what they do but they are also amazing humans. Ok, I might be a little biased here but why don't you reach out and find out for yourself. We love new connections."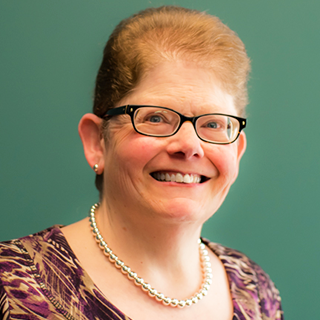 Shelley Bacheldor
Organizational Change Management & Business Analysis Lead
"Thank you to everyone on the eQuality & eSafety team for their ongoing hard work to bring eSafety guidelines and eSafety checklist to AHS. I have only worked with this team a short time, but they welcomed me with open arms and kindness. They are each passionate and driven about the work they do, and I am fortunate to have gotten to know them."
Jason Laberge
Director Human Factors and Evaluation, Patient Safety
"Working for the AHS Human Factors and Evaluation team has been the highlight of my 20 year career. I am very proud and grateful to be working with a team that develops innovative solutions that improve how people (clinicians, staff, patients, families) interact with the healthcare system."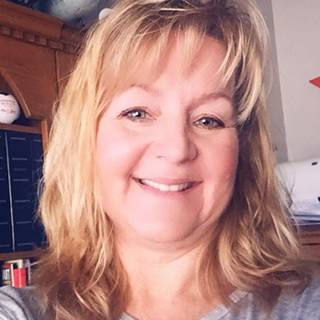 Debra Scharff
Director, Patient Safety Learning and Improvement
"Thank you to everyone in AHS Operations and within Patient Safety teams for embracing the System Analysis Methodology as a tool to improve the quality and safety of the care we provide across AHS."