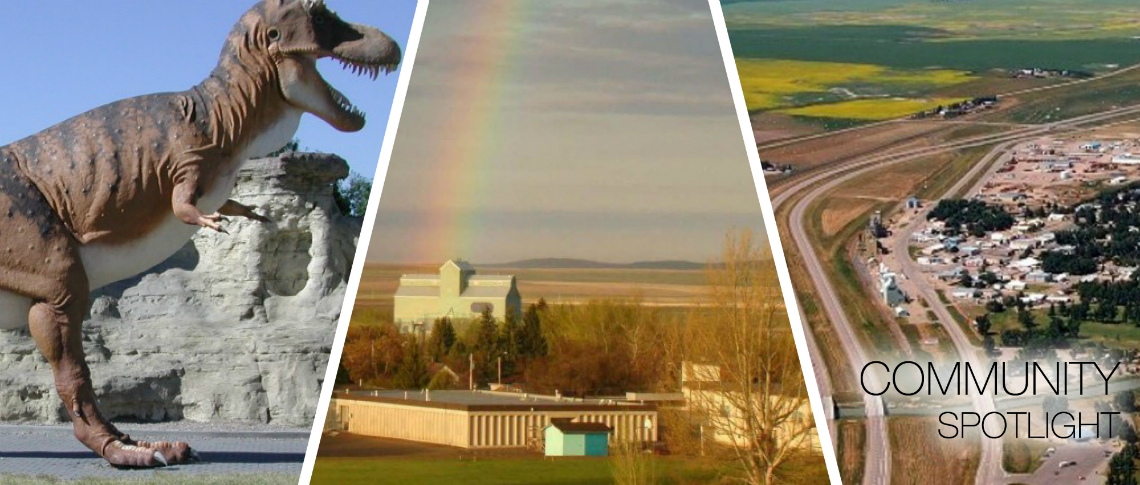 Images courtesy of the Town of Milk River.
May 8, 1805 – The water of this river possesses a peculiar whiteness, being about the colour of a cup of tea with the admixture of a tablespoon of milk. – The journals of Lewis and Clark
The southern Alberta landscape is rich, varied, and occasionally surprising. The unusual milky colour of the river that gives this town its namesake, first noticed by Lewis and Clark, remains a distinctive feature to this day. Milk River starts in Montana, meanders through the Canadian badlands, and then crosses the border again to flow southward – the only Canadian river to do so. Running through the semi-arid landscape of the badlands, past sandstone cliffs, desert scrub and hoodoos, Milk River has seen it all throughout its history.
Located 298 kilometres or about a three hours' drive southeast of Calgary, Milk River is only 23 kilometres or about a ten minutes' drive from the U.S. border. This access makes the town a prominent stop along major trucking routes, as well as a frequent tourist rest stop and service centre for farmers and ranchers in the area.
Like the landscape, Milk River will surprise you. The town has a population of 827 people, and is one of the only places in Alberta where you can take your picture with a life-size T-rex sculpture.
Dinosaur bones have been found all across the Milk River region, and you can see some of them in the Devil's Coulee Heritage Museum. The nearby Writing-on-Stone Provincial Park contains the largest concentration of rock art created by the Plains People – over 50 rock art sites and numerous archeological sites.
If you prefer natural wonders to archeological ones, the mountains of Waterton Lakes National Park are only an hour and a half away. Locals and passers-through alike enjoy seven more parks and campgrounds in the immediate area for activities like canoeing, fishing, swimming and watching wildlife.
In town, residents have all the essential amenities and services. For growing families, Milk River has a kindergarten to grade 5 Elementary School, with middle and high school students attending Erle Rivers High School from rade 6-12. Nearby Lethbridge and Medicine Hat offer post-secondary options: Lethbridge College, University of Lethbridge, and Medicine Hat College.
Milk River Health Centre includes a range of healthcare services encompassing diagnosis, treatment, and rehabilitation. There are 21 long-term care beds, three community support beds, and a 24-hour emergency room with ambulance services. With on-site lab and x-ray, homecare and continuing care services, mental health services, public health, dieticians and mental health services, the health centre is well-equipped to care for a wide range of patients and healthcare concerns in a space that's friendly, cheerful, and bright.
Ongoing education is an important part of the work culture, with regular skills days, learning fairs, or e-simulation (e-SIM) sessions.
New hires are quickly drawn into the warm, welcoming atmosphere and are soon considered part of the "work family." From emergency medical services (EMS) to laboratory staff, to the physicians themselves, there's always a willingness to help where it's needed. For them, helping others is a part of their rural lifestyle and values.
Whenever there's a team member who's hit a milestone, had a birthday, or successfully recovered from surgery, the rest of the team is there to help them celebrate – usually with food, served potluck-style.
To learn more about living and working in Milk River, visit the town's website. To view current opportunities in Milk River and throughout southern Alberta, go to our online job board.