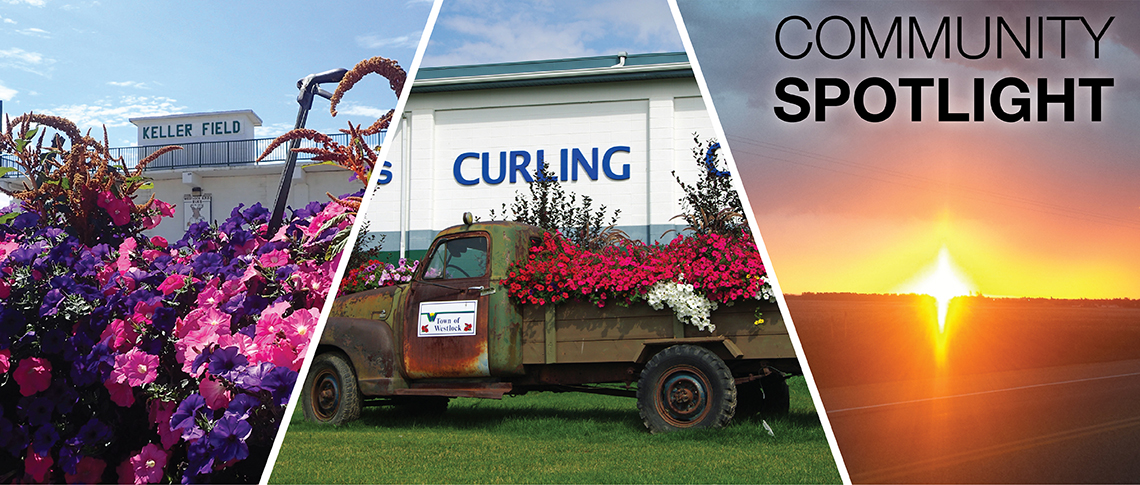 Photos courtesy of Town of Westlock.
The prairie town of Westlock, Alberta is dominated by waving grasslands and the wide-open skies of the Great Plains. East of the Pembina River, one of Athabasca River's tributaries, the fertile land has made the area exceptional for agricultural production. Located approximately 90 kilometres northwest of Edmonton, or about an hour's drive, Westlock residents can easily access the business, shopping, and entertainment of the city while enjoying a laid-back small-town lifestyle.
Westlock has strong agricultural roots, with many families growing grain, raising livestock, and selling their dairy, honey, and other agricultural products. Aside from farming, the local economy has business services, retail, government administration, and manufacturing. While Westlock County is home to more than 7,200 people, the Town of Westlock itself has a population around 5,100.
This friendly and family-oriented community offers plenty of services and activities for both individuals and families at various stages. Westlock has public and Catholic elementary schools from kindergarten to grade 12. Adult learners can take courses through the Adult Learning Centre and the local Norquest College campus, which offers relevant courses for a number of healthcare professions.
There's a good variety of facilities and activities in town, from sports and recreational facilities to an art studio and dance classes. Sports and fitness enthusiasts will find an indoor swimming pool, two local yoga studios, gym facilities, and walking track at the Rotary Spirit Centre. Additionally, there's a curling rink, skating rink and bowling lanes, as well as soccer and football fields. At one of the five additional parks in town you will find more options for physical activity, as well as meeting spaces for classes and clubs, the local theatre group, mommy and me meetup, church groups and the local 4-H club. In the summer, you can enjoy the 18-hole golf course, in winter, the local ski hill helps new and returning skiers find their balance.
Camping is a popular pastime with almost 10 campgrounds within a short drive. Launch a canoe or kayak on the Pembina River, go horseback riding, quadding or dirt-biking. Observe the local wildlife at the Cache Park Bird and Bat Conservatory, or participate in one of the many community events in town. Annual events to look forward to include the pancake breakfast at the Pioneer Museum, the Vintage Tractor and Machinery Show, or the annual fair and rodeo.
Alberta Health Services operates the Westlock Healthcare Centre, and Westlock Community Health Services within the community. There are also non-clinical professionals working in finance and accounting, IT, Workplace Health and safety, and facility maintenance and engineering based out of the Westlock Administrative Building. Depending on where you work in town, there are restaurants and a grocery store within walking distance to provide lunch options.
The Westlock Healthcare Centre features a 24-hour emergency department and a range of healthcare services for patients at all life stages. This facility is well-equipped with diagnostic imaging, including computer tomography (CT scan), magnetic resonance imaging (MRI), ultrasound and x-ray, laboratory services, obstetrics, pediatrics, occupational therapy, along with day surgery services and recovery.
Westlock Community Health Services provides a range of programs and services for families, mothers and babies, travelers, occupational therapy services, respiratory therapy, and dietician services. Furthermore, there are resources in place for home care and continuing care within the community.
Teams based in Westlock or working as part of a larger provincial team stay connected using email, skype, and telehealth technology. On-site, teams have regular wellness challenges, and celebrate holidays with a potluck style lunch. During the Christmas season, the Westlock Administrative Building teams support charities like toy drives for less fortunate children and the local food bank.
Alberta Health Services encourages professional development, offering a range of internal courses for both clinical and nonclinical employees. Employees may also have the opportunity to apply for funding through courses, workshops, or conferences relevant to their job.
If you'd enjoy a small-town lifestyle in a family-oriented community, Westlock may be right for you. To learn more about this community, visit the Town of Westlock or Westlock County websites. Check out current opportunities on the Alberta Health Services online job board.