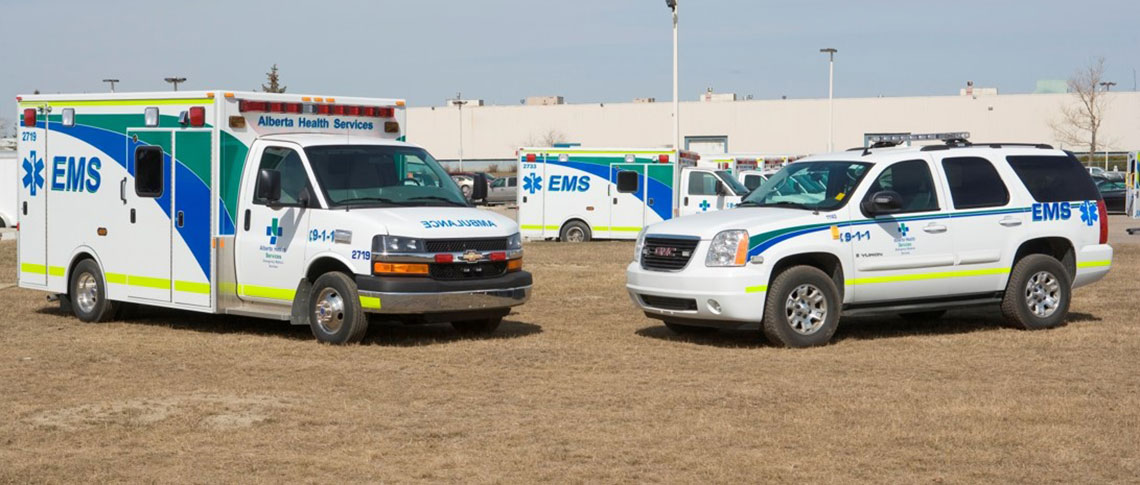 EMS 10 Point Plan Update - April 8, 2022
AHS EMS continues to address ongoing system pressures and create capacity within the system, working on the initiatives first outlined in the EMS 10-Point Plan. This work is focused on managing high volumes of EMS calls, freeing ambulances up for urgent care needs and ensuring our EMS workforce is robust and well supported. Innovative thinking and operational efficiencies are already helping ease pressures.
For example, to ease call volumes, appropriate calls to EMS are now being redirected from a EMS dispatcher to the Poison and Drug Information Service (PADIS). This ensures the best support provided for calls that don't require EMS response, but still require immediate health advice. A similar project with Health Link is being established to allow our EMS dispatchers to refer calls to Health Link or physicians, if they don't require EMS response.
To help keep our ambulances available for urgent responses, EMS has also stopped automatically dispatching ambulances to non-injury motor vehicle collisions. This was implemented in December 2021, and our EMS Emergency Communications Officers have already noted several instances where ambulances were not required to respond, and instead remained available for true urgent care events. This is just one way that we are allowing ambulances to be averted from lower priority assignments and diverted to higher priority assignments, ensuring that we are responding most rapidly to those critical patients who need EMS care the most.
We have also implemented the first parts of the Metro Response Plan (MRP), which is working to keep suburban ambulances in their home communities instead of using these ambulances to cover urban areas when call volumes are highest. This ensures that response to urgent events in suburban areas is swift, and within our target times. Since implementing these first steps in March, unit availability has been increasing already in many places including Stony Plain, Beaumont, Airdrie and Cochrane, to name only a few.
EMS also recently received budget approval to add five new ambulances, each, in both Calgary and Edmonton, every year for the next two years. Adding 20 new ambulances will relieve some of the pressure on the EMS system by adding resources in areas of highest demand. This in turn will have a positive ripple effect on neighbouring communities.
In March, EMS concluded the first phase of a pilot project that reduced the amount of time our ambulances are spending managing non-emergency inter-facility transfers. By allowing patients that do not need acute care to use other means of transferring between facilities, our ambulances are freed up to provide urgent care on the street. Early findings from this first phase were positive, and the project is being extended to all hospitals in Calgary Zone, while continuing in other areas for an additional six months. A similar project taking place in Red Deer is also currently under development, specifically focusing on the use of EMS transfer units instead of ambulances, for inter-facility transport.
Our people remain our most important asset, and we are investing to ensure our people are supported, and that we have a robust workforce. Since January, EMS has hired a total of 66 staff: 9 temporary full time, and 57 casual staff. EMS has also engaged with contract service partners on an Hours of Work/Fatigue Management project which is focused on mitigating fatigue and the associated risk to our people. An additional $12.2M has been approved to support implementation of supports for the next phase of this project.
Funding has also been allocated for the implementation of the Calgary Integrated Operations Centre. Set to open in May 2022, this initiative brings our expert people together - paramedic leads and zone and hospital staff - to improve integration, movement of resources and flow of patients.
Finally, work is underway on the overarching Provincial Service Plan, which will guide the next 5 years of EMS operations. EMS is engaging with our people, as well as the public and other partners, to understand current experiences and perceptions of EMS. This will then guide the identification of areas for potential improvement, now and over the coming years. This engagement launched in mid-March, and since that time, EMS has already heard from thousands of Albertans including patients and families, elected officials and AHS staff. Updates are available on the EMS Together4Health page and anyone is invited to sign up and take part.
EMS continues to be here for all Albertans. We are working together with our people, our patients and our partners, to ensure our system is robust and sustainable. We thank everyone for their involvement and support, and will continue to keep Albertans updated on this effort.
---
10 Point Plan Details
1. EMS Is Addressing Fatigue Management. Known as the EMS Hours of Work project which launched in November 2021, EMS is adjusting working hours, shifts, and scheduling at some ambulance stations, to help to alleviate fatigue among staff.
2. EMS Is Transferring Some Non-Emergency or Low Priority Calls: These calls are transferred to other agencies such as the Poison And Drug Information Service (PADIS) (and are working to include Health Link 811) when appropriate, and in consultation with our EMS physicians in dispatch.
3. Non-Injury Collision Response: Since December 1, 2021 EMS is no longer automatically sending an ambulance to a motor vehicle collision where there are no injuries reported.
4. AHS EMS Will Continue Hiring Paramedics. While EMS is always hiring, there are also conversations happening with training institutions about how to potentially expand training capacity.
5. Managing Non-Emergency Inter-Facility Transfers: Two pilot projects are underway in Calgary and North Zone, where patients who do not need urgent medical care are transported from hospitals to appointments, or back to care homes and residences by means other than ambulances.
In addition to the above initiatives that are already underway, work is moving forward rapidly for some additional initiatives. These include:
6. Creating a Calgary Integrated Operations Centre: This will mirror Edmonton's IOC which brings together paramedic leads and zone and hospital staff for improved integration between EMS and the hospital system, to improve overall flow.
7. EMS will be implementing additional dispatching processes provincially, including prioritization to determine if an ambulance from out of area, though it may be closest to a 911 call, is most appropriate to respond.
Adding an additional level of 911 call assessment to assist in sending EMS resources to the most urgent call. This changes the way ambulances are assigned primarily in the Metro and Urban environments, and will assist with keeping resources in Suburban and Rural communities. Within EMS, this is known as the EMS Response Prioritization System and the Metro Response Plan.
Delaying Non-Emergency Responses: Responses to low acuity or truly non-emergency calls may be delayed when safe and appropriate to do so, in conjunction with physician advice and oversight. This allows EMS to focus on prioritizing ambulances for those who have the greatest and most urgent medical need.
8. Pre-empt & Divert Workflow: This works hand in hand with the Metro Response Plan. In dispatch, this allows ambulances to be thoughtfully and safely pre-empted from assignments which are not critical, and diverted to more urgent calls, instead of being automatically dispatched.
9. Developing a Provincial Service Plan: at the request of Alberta Health, EMS is looking at all current EMS services and will create a 5-10 year plan.
10. Creating an IFT Pilot: This new concept would assist in managing the volume of low acuity Inter-Facility Transfers in one geographical area with dedicated transfer units, freeing up ambulances to handle primarily emergency calls.
Alberta Health has also announced an EMS advisory panel. EMS appreciates Government's awareness and action on EMS.
Government of Alberta News Release, January 24, 2022: Addressing Emergency Medical Services Pressures