Fast response shown to prevent heart attacks
Story by Gregory Kennedy; Photo by Dale MacMillan
EDMONTON — "Don't wait to dial 911 if you think there's even a slight chance you might be having a heart attack," says Debbie Robertson, who believes she's alive today thanks to the quick treatment she received last September after experiencing severe upper back and neck pains.
Robertson says she's living proof that damage to heart muscle can be prevented by injecting a clot-buster to abort a heart attack before it happens, ideally during a patient's ambulance ride to hospital, according to new research by Edmonton cardiologists recently published in the Canadian Journal of Cardiology.
"The paramedics did an ECG right away and gave me an injection in the ambulance," says the 57-year-old mother of three, who lives near Morinville, a 50-minute drive north of Edmonton. "Within 10 minutes, I felt great; the pain had gone. I just feel the care was excellent. I truly believe they saved my life."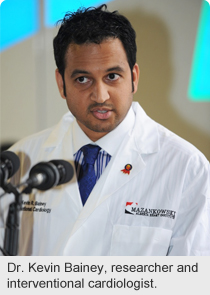 A new study of 2,235 patients — led by researchers at the Mazankowski Alberta Heart Institute, the CK Hui Heart Centre and the Faculty of Medicine & Dentistry at the University of Alberta — highlights the life-saving benefits of the Vital Heart Response system, which serves Edmonton and all of northern Alberta to expedite diagnosis and treatment for patients en route to major cardiac facilities at the Mazankowski and the CK Hui at the Royal Alexandra Hospital.
Northern Alberta enjoys the country's lowest 30-day mortality rate from heart attacks, at 4.9 per cent, well below the national average of seven per cent, according to the Canadian Institute for Health Information.
"There's no doubt in my mind that innovations such as Vital Heart Response are responsible for these significant gains," says Vickie Kaminski, President and CEO of Alberta Health Services. "It's important to remember what these numbers ultimately mean — that more Albertans are surviving their cardiac episodes and fewer families are losing their loved ones."
Unique in Canada, the Vital Heart Response system requires co-operation between different parts of the health system. Heart specialists in Edmonton take calls from the ambulance and small community hospitals to co-ordinate care for patients who suffer life-threatening STEMI (ST Elevation Myocardial Infarction) heart attacks — when a blood clot completely blocks the coronary artery, causing the heart muscle supplied by that artery to die.
When a patient presents with chest pains, for example, cardiologists and EMS work in tandem to diagnose the issue while the patient is still in the ambulance — and decide whether to inject a clot-buster on the spot, or to mobilize a hospital team to perform an emergency procedure (such as angioplasty to clear the artery and restore blood flow) upon the patient's arrival at hospital.
"Our research shows it's possible to avoid a major heart attack with really no heart muscle damage in patients who present early with symptoms and are treated early with effective therapies in the ambulance prior to arrival at the hospital," says Dr. Kevin Bainey, one of the study's authors, an interventional cardiologist at the Mazankowski Alberta Heart Institute and an assistant professor in the Department of Medicine at the U of A.
"In fact, if you receive fibrinolysis (a clot-busting drug) within the first hour of symptoms, you have roughly a 30 per cent chance of aborting a heart attack with minimal, if any, heart muscle damage — and far superior outcomes compared to those who didn't abort their heart attack."
His study co-authors include Dr. Robert Welsh, founder and co-chair of Vital Heart Response.
Community support has played a pivotal role in this field of research. With a $225,000 seed grant from the University Hospital Foundation, researchers were able to conduct initial studies, and leverage their findings into additional funding over the past several years.