Alberta researchers well-equipped to deal with rising rates
Story by Sharman Hnatiuk; photo by Mathew Martin
It may not look like much, but Daniel Antoniuk is proud of the patchy and uneven beard he's grown over the past month.
Last January, the 59-year-old Sturgeon County man was devastated when he was told the lump in his neck was caused by a cancerous tumour at the base of his tongue. His cancer, which spread to the lymph nodes in his neck, was associated with human papillomavirus (HPV).
Following his diagnosis, Antoniuk required complex surgery in April, and aggressive chemotherapy and radiation from May to July. Now cancer-free, Antoniuk is growing a beard in support of Manuary, a national campaign to raise awareness of head and neck cancer and to raise money for research.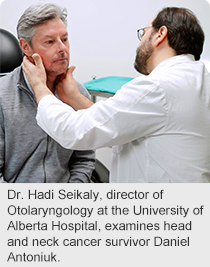 "As a former teacher, I am so happy to see that HPV vaccinations are available to both boys and girls in school throughout Alberta, but there a lot of young Albertans who missed out on school vaccinations who are at risk. It is time to start talking," says Antoniuk, whose Manuary efforts have raised more than $7,000 for the University Hospital Foundation.
New equipment at University of Alberta Hospital – purchased with a $1-million donation through the University Hospital Foundation – is expected to help local oncology teams treat the growing number of patients diagnosed with head and neck cancer.
The equipment, which arrived this month, includes a tissue scanner that can obtain molecular information from patient tumours that can be used to tailor treatment plans. It also includes Western Canada's only digital droplet PCR (polymerase chain reaction), which can detect genetic changes in tumour cells using small amounts of cellular material. The digital droplet PCR will be used for research to improve diagnostics.
"With the new equipment, we are now the most well-equipped and advanced research lab for head and neck cancer in the country," says Dr. Vincent Biron, a newly recruited head and neck oncologic surgeon at the University of Alberta Hospital.
The facility's head and neck oncology team treats more than 250 new cases of head and neck cancers per year. Of these, 170 patients will need a major surgical treatment.
"We hope to improve early detection, increase the accuracy of diagnostics and improve treatments for head and neck cancer," adds Dr. Biron.
Head and neck cancer can start in the lip, mouth, inside the nose, paranasal sinuses, pharynx and larynx. Most head and neck cancer patients present with Stage 3 to 4 cancer and have a survival rate of 75 per cent. Survival rates are between 80 per cent and 90 per cent for patients with early-stage head and neck cancer.
While head and neck cancer cases linked to alcohol or tobacco use remain significant, the rate of HPV-related head and neck cancer has more than doubled since 1998.
"We're glad to see vaccinations in schools for boys and girls now, but we won't see that impact in our clinic for another 20 to 30 years," says Dr. Hadi Seikaly, Director of Otolaryngology at the University of Alberta Hospital. "With the new lab equipment, our hope is that profiling each individual's tumour will allow us to scale back aggressive treatments on patients."