More staff, OR times used to deal with surge in ice-related injuries
Story and photo by Shelly Willsey
Wait times for orthopedic services in Edmonton didn't slip despite a surge in demand due to icy conditions in late January.
Alberta Health Services leadership brought in extra staff and expanded operating room time the week of Jan. 26 to deal with 47 patients needing surgery for broken wrists, ankles and hips — nearly six times the typical number at this time of year.
Thirty-nine patients underwent surgery within a 24-hour period, and the remaining eight patients, and those added due to the continuing icy conditions, had surgery in the following days.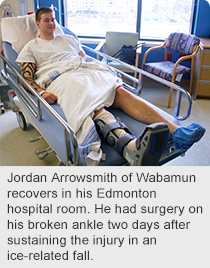 "We're proud of our teams for rising to meet this challenge," says Mary Lou McKenzie, Executive Director of Adult Operative Services/Medical Device Reprocessing/Endoscopy.
"With a strong patient focus, we were able to problem solve and work collaboratively to provide a quick response to a pressing problem mobilizing resources that allowed us to make beds and surgical time available for the patients who needed them."
Jordan Arrowsmith is one of those patients. The 21-year-old Wabamun man broke his ankle after a fall on an icy sidewalk. He was in surgery two days later.
"I'm glad they were able to squeeze me in so quickly," Arrowsmith says. "I'm impressed that the staff are still so chipper and helpful because I can see they're really busy right now."
Additional orthopedic technologists, physicians and emergency and orthopedic surgery residents were brought in to help the additional patients and expedite their assessment and treatment.
X-rays were ordered prior to their physician assessments, and prompt sedation enabled timely fracture setting and casting. Medical device reprocessing ensured sterilized sets of equipment were available for the additional surgeries.
Patients were admitted not only to Edmonton's University of Alberta Hospital, Royal Alexandra Hospital and Misericordia Hospital, but also to Sturgeon Community Hospital in St. Albert and St. Mary's Hospital in Camrose.
New protocols at the Royal Alex allowed patients with serious orthopedic injuries to bypass the emergency department and be admitted onto an inpatient unit.
"Everyone from the orthopedics service, anesthesiology, bed management, the operating rooms and the inpatient units pulled together to capitalize on the capacity we had at the Royal Alex," says Laura Ifi, Patient Care Manager for Adult Surgery Inpatients at the hospital.
"Everyone pitched in. The front-line staff adopted the changes in the process, and asked questions to ensure everything was being done correctly. Our clinical associates and residents went the extra mile to get our patients to their beds in a more timely fashion."
Kenny Davidson, Patient Care Manager for Operative Services at University of Alberta Hospital, is also pleased with how his staff dealt with what he calls "extraordinary circumstances.
"We have never seen this number of patients before," says Davidson.
"The staff pulled together and were very willing to help."