University Hospital Foundation pumps up Heart Pledges
Story by Kerri Robins; Photo courtesy of University Hospital Foundation
EDMONTON — The Mazankowski Alberta Heart Institute ended 'Heart Month' February on a coronary high note after it raised $250,000 during the 9th annual 630 CHED Heart Pledge Day on Feb. 25. The event has raised more than $1.3M since 2004.
Hosted by the University Hospital Foundation, generous donors, sponsors and volunteers worked hard raising the funds to help purchase an Extracorporeal Membrane Oxygenation (ECMO) Transport System for the Mazankowski Alberta Heart Institute.
The ECMO will help patients like Alicia Lewis' father James, who had a heart attack last spring at his home in Athabasca.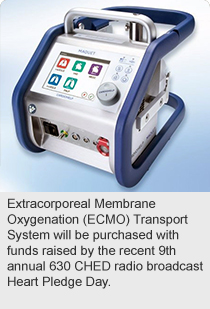 "My mom phoned and told me, 'They have to get him to the Maz but they can't stabilize his heart'," says Lewis. While James eventually made it to the Maz in time for life-saving surgery, it still proved to be an incredibly tough time for the family.
"If having an ECMO Transport System means no one else will have to go through what we did, let's get one," added Alicia.
Having a new, portable ECMO will help doctors initiate life-saving care the moment they get to the patient, instead of waiting until the patient gets to the Maz. ECMO is a vital piece of equipment that keeps patients alive after suffering acute cardiac or respiratory failure by taking over the function of their heart and lungs.
Dr. David Ross, Director of Cardiac Surgery at the Mazankowski Alberta Heart Institute. says: "The ECMO Transport System will help us take the world-leading care that patients get at the Maz to people who need that same level of care just to get here alive."
The Maz, considered the leading heart institute in Western Canada, provides care for the most complex and chronic cardiac patients.
It's supported by the University Hospital Foundation whose mission is to advance the health of Albertans by connecting generosity to support innovation and excellence at the University of Alberta Hospital, the Edmonton Clinic and the Mazankowski Alberta Heart Institute.