Telehealth technology brings specialty services to families
Story by Gregory Kennedy; Photo by Dale MacMillan
EDMONTON / CAMROSE — Having easy access to the best of care for his two special- needs daughters means the world to Dustin Manchester.
"In the past, my wife Laressa has had to make five or six different appointments, as opposed to going to just one where all the specialists are there for us," says Manchester.
He's referring to a new partnership between the Glenrose Rehabilitation Hospital in Edmonton and the Camrose Pediatric Specialty Clinic that lets Camrose children with developmental disabilities and their families access expert diagnosis in their own community using Telehealth videoconferencing technology.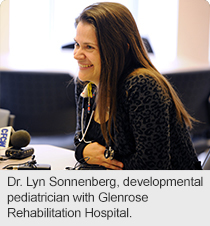 The Camrose Pediatric Specialty Clinic offers rehabilitation provided by an occupational therapist, physical therapist, speech language pathologist, two psychologists, a social worker and a clinical co-ordinator. Since November, developmental pediatricians at the Glenrose have been collaborating remotely with the Camrose team and supporting them in working with families with complicated medical and developmental needs.
This saves time, travel and expense for patients and families, and also reduces delays and the number of appointments it takes to assess children and to decide on their future care. As well, Glenrose doctors driving to Camrose, or families heading to Edmonton, no longer have to cancel appointments when wintry Alberta highways turn icy.
"Camrose families would drive to the Glenrose to see a developmental pediatrician even though they have a team in their city that has already completed the bulk of the assessment," says Val Guiltner, director of pediatric rehabilitation at the Glenrose.
Ryan Sommer, project lead at the Glenrose, adds: "As it's often difficult for a Glenrose physician to travel to Camrose regularly to give outreach support, kids would sit on a waiting list in Camrose and end up, instead, having to come to Edmonton — only to sit on our waiting list here. This project not only reduces the wait list for kids to be served in their own community, but it means better accessibility in our Edmonton programs to see our own local kids. Now, it's a win-win."
The new one-stop assessment process works like this:
Children identified as needing the services of a developmental pediatrician are scheduled for a multidisciplinary clinic visit in Camrose, which includes an assessment done by the Glenrose physician via Telehealth.
After this assessment, the Glenrose physician then joins the team conference, again via Telehealth, for a comprehensive review of the results.
This is followed by a conference with the child, family, the full multidisciplinary team, and local stakeholders such as teachers, for discussion and collaboration on next steps.
"This Pediatric Specialty Clinic session is a great example of how Telehealth eliminates barriers to patient care by enabling clinicians to deliver health care and expertise with the use of videoconferencing," says Judy Treppel, Provincial Manager, Clinical Telehealth Information Technology. "It allows for options for care and support closer to home."