Faster stroke treatment improves recovery
Story and Photo by Shelly Willsey
Richard Grynoch woke up last month without sight or control of his left arm and leg.
The 68-year-old Edmonton man had a stroke in his sleep.
Just a month later, Grynoch has regained his sight and motor function – and he credits the prompt response of Emergency Medical Services (EMS) staff and the stroke experts at the University of Alberta Hospital.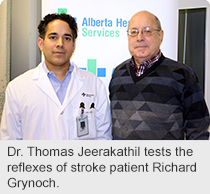 Thanks to new protocols at the hospital, he received the clot-busting drug tPA 27 minutes after his arrival to hospital. Administering tPA within 60 minutes of a stroke has been shown to reduce mortality, reduce treatment complications, lessen disabilities and shorten inpatient hospital stays.
"I would call my recovery miraculous," says Grynoch, who was released from hospital after three days. "I started improving within 10 minutes of receiving the drug – my vision cleared and my limbs stopped thrashing. I have a small visual-field defect in my right eye, and some short-term memory loss, but that's getting better. I don't have any motor defects. I know how much worse it could have been."
Median door-to-needle (DTN) time – the total time from when a patient enters the emergency room, is given a stroke diagnosis, and receives a clot-busting drug – has been reduced by half to 40 minutes from three years ago at the University of Alberta Hospital, one of two main stroke centres in Edmonton. The improvements are the result of a quality improvement project initiated at the Alberta Health Services facility in March 2012.
About 1,200 stroke patients are treated at the hospital every year.
"There are approximately 20 different processes that need to be executed from the time a patient arrives in the emergency department to the time the clot-busting drug is administered," says Dr. Thomas Jeerakathil, a neurology physician at the University of Alberta Hospital.
On average, a stroke patient loses 1.9 million brain cells every minute that passes until the clot is cleared and regular blood flow can return to the brain. Typically, the clot is cleared using tPA (tissue plasminogen activator).
Canadian Best Practice Recommendations for Stroke indicates DTN time should be 60 minutes or less. Edmonton's other major stroke centre, the Grey Nuns Community Hospital, also has a median DTN time of less than 60 minutes.
Protocol improvements included the emergency department immediately paging all members of the stroke team and diagnostic imaging when the patient is triaged, ensuring the CT scanner is available for quick use, and creating visual cues for the lab to indicate the urgency of the patient's blood tests.
"Everyone is an expert in their own process, so it was essential to present the teams with the numbers and ask them to think about what we could all do better," says Dr. Jeerakathil.
"We determined what could be eliminated or simplified, and which processes could run in parallel, rather than in sequence."
The University of Alberta Hospital's protocol improvements and ideas are being shared with the other stroke centres across Alberta.