One-stop shop cuts stroke risk, improves quality of life
Gregory Kennedy;  Photo by Dale MacMillan
EDMONTON — Lanny Magnussen knows exactly how he would describe the symptoms of atrial fibrillation – otherwise known as an irregular heartbeat.
"If you've ever played any sports, and you reach the point where you're just about ready to throw up, that's what atrial fibrillation feels like," says the 63-year-old Edmonton man.
"It's a very unpleasant feeling. My heart will beat really hard until it hurts, up to 160 or 170 beats a minute."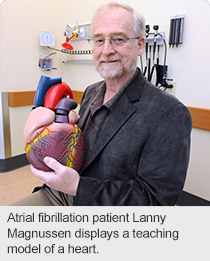 Magnussen, who has survived multiple heart attacks, now believes such moments of discomfort are behind him. He's one of many people with an irregular heartbeat who are now benefiting from a one-stop, comprehensive treatment option — the new Atrial Fibrillation Program at the Mazankowski Alberta Heart Institute in Edmonton.
After a one-year pilot, the program is now established as an ongoing treatment pathway where patients receive the education, lifestyle advice, medication and procedures they require to get their racing heartbeat under control, and improve their quality of life and longevity.
"Managing atrial fibrillation is the key," says nurse practitioner Marcie Smigorowsky. "This is a chronic disease; it has no cure. The consequences, if it's not diagnosed and well-managed, are severe: stroke and heart failure. Our program helps to manage patients in a faster, more streamlined way and also ensures followup for them."
The clinic currently manages about 400 patients, and sees 70 new patients a year.
"They are marvellous at helping me manage and reduce my symptoms," says Magnussen, who hasn't had to go to an emergency department in more than a year thanks to the clinic. "It's fabulous care. My wife and I think of Marcie as our angel."
With its team-based approach to care, the Atrial Fibrillation Program has reduced the wait time to see a specialist from several months to 30 days or less. Gathering all of the appropriate resources in one location reduces time, travel and number of appointments for atrial fibrillation patients, and ensures consistency of care and best practices.
The Mazankowski's atrial fibrillation team — Smigorowsky and cardiologists Dr. Roopinder Sandhu and Dr. Tomasz Hruczkowski — have also laid the groundwork with emergency departments, where atrial fibrillation patients often present for the first time, and with primary care physicians and others, to ensure these patients are given a timely referral to receive the specialty care the clinic provides.
"While family practitioners are our partners in managing these patients, Canadian cardiovascular guidelines suggest that when patients are first diagnosed, they should also be referred to specialty care for assessment, so their background and history can be reviewed and a treatment plan arranged," says Smigorowsky. "It's extremely important to assess their risk factors quickly; they may need to be on blood thinners."
Atrial fibrillation affects about 350,000 Canadians; their risk of stroke is three to five times greater than those without it. After age 60, it's estimated that atrial fibrillation causes one-third of all strokes.