Parents of young neurosurgery patients pen guidebook
Story bySharman Hnatiuk; Photo by Mathew Martin
Parents of children requiring neurosurgery at the Stollery Children's Hospital in Edmonton will be able to navigate their journey a little easier thanks to a new guidebook initiated by three mothers of pediatric neurosurgery patients.
"Trying to understand that your child has a brain or spinal cord disorder and will require neurosurgery is overwhelming for any parent," says Melissa Da Silva, whose son Joshua had a stroke shortly after birth and required neurosurgery at 14 months.
"I left the hospital with a laundry basket worth of brochures and 101 questions, thinking there has to be an easier way."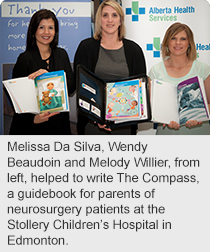 Da Silva realized she was not alone in her opinion.
For more than two years, she has worked with Wendy Beaudoin and Melody Willier, who are also parents of neurosurgery patients, along with Dr. Vivek Mehta, Divisional Director of Pediatric Neurosurgery at the Stollery, to develop a one-stop resource for parents and caregivers that would make their path feel less confusing and more supported.
The Compass is a project of the Neurosurgery Kids Fund (NKF), which is supported by the Stollery Children's Hospital Foundation. The guidebook was written by the quartet, who spent more than two years developing content for the book, which was reviewed by staff, physicians and patient families.
"We wanted to make it easier for families who were coming through the program after us," says Da Silva. "It is similar to a 'what to expect when you are expecting' guidebook but for families of pediatric neurosurgery patients."
The Compass includes real-life stories of coping from patient families, provides medical and technical information about brain and spinal cord injuries, and explains everything from diagnosis and medical terminology, to how to navigate the hospital, to where to find specialized clothing and shoes. The book also includes a workbook with space for parents to take notes and keep information organized.
Every year, about 1,500 children are treated in the Stollery's pediatric neurology program for injuries and/or illnesses affecting the brain or spinal cord. About 275 pediatric neurosurgeries were performed at the hospital last year.
"Family-centred care is one of the areas of the hospital we support," says Mike House, Stollery Children's Hospital Foundation President and CEO.
"When you're dealing with serious illness, education is power and the personal accounts in this informative resource will provide families with knowledge, strength and hope to help them cope with what's ahead."
Production of the book was made possible by a $100,000 donation from the Building Trades of Alberta Charitable Foundation. About 300 copies of The Compass will be printed for existing and new patients over the next three years. The donation also supports the development of an interactive app version.