New Glenrose remote, hi-tech hearing test for infants celebrated as Leading Practice by Accredition Canada
Story and Photo by Gregory Kennedy
EDMONTON — Pioneering a remote, high-tech means of testing babies for hearing loss has won the audiology team at Glenrose Rehabilitation Hospital national recognition of their work by Accreditation Canada as a Leading Practice that improves quality of care.
Their ongoing collaboration with Telehealth and the Northern Lights Regional Health Centre in Fort McMurray means northern Alberta families no longer have to travel to Edmonton to find out if their infant has a hearing loss.
Having a new health-care strategy accepted as a Leading Practice ranks as a major achievement. It means this Alberta Health Services (AHS) team has proven its value, effectiveness and set a new standard of care — a feat that was celebrated at Accreditation Canada's fourth annual Quality Conference in Toronto this week.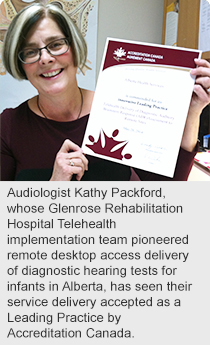 "Putting families first with new ideas to improve patient care is a tradition at the Glenrose Rehabilitation Hospital," says Dr. Verna Yiu, VP Quality and Chief Medical Officer of AHS. "Making smart use of technology to extend this valuable service to more Albertans shows the forward thinking that makes the Glenrose an influential leader in its field."
The Glenrose team's submission — Delivery of Diagnostic Auditory Brainstem Response (ABR)Assessment to Remote Sites — outlines how, through a secure and confidential Telehealth video-conference link, families across the Wood Buffalo region can now talk 'face to face' with Glenrose experts as they assess the child's hearing through Auditory Brainstem Response (ABR) testing via a remote desktop computer link that streams results across the encrypted Alberta Supernet from state-of-the-art diagnostic equipment in Fort McMurray to Edmonton.
"Everyone in the project is very excited that we can now deliver our services at a distance," says Kathy Packford, audiology team leader for the Glenrose. "It's meaningful, because we're able to put the minds of very anxious parents at ease."
The Quality Conference, with its focus on celebrating innovative approaches to quality improvement in health care, saw Wendy Nicklin, President and CEO of Accreditation Canada, present the Glenrose award at a breakfast ceremony on March 24.
Packford first came up with the idea several years ago after studying a similar set-up in Thunder Bay, Ont., then with the support of Clinical Telehealth pulled together a two-city team to make it happen here in Alberta, initially as a pilot project. Over the past three years, more than 70 families have benefited from the service.
The five-hour, 437-km trip from Fort McMurray to Edmonton "is an uncomfortable distance for families to travel with infants," says Packford. "We know it's very critical for an infant who may have a hearing loss to be diagnosed at a very early age so that they can benefit from amplification and speech and language intervention."
In the past, some families have had to make multiple trips to the Glenrose because the test — which requires the infant to sleep for an hour or so — couldn't be completed because the child had slept all the way to Edmonton during the long drive. So families would have to go away, rebook, and come back for another try.
Packford says she hopes the service can soon be extended to other centres that have expressed strong interest in remote ABR testing.
"Calgary has shown interest in becoming a hub, like the Glenrose, to serve communities across southern Alberta," she adds.
Many months of work went into translating the Glenrose's experience with remote ABR testing into a formal protocol — essentially a foolproof manual that sets out how to deliver the service in a sustainable way — including a staff training guide and step-by-step checklists, right down to minute details such as how to visually identify the cables that plug into the computer and diagnostic equipment.
The project's advisory team included: audiologists, a knowledge-translation consultant, a pediatric otolaryngologist, rehabilitation and audiology managers, a Clinical Telehealth research manager and a therapy assistant.
In addition, feedback from parents involved in the project, through a survey, provided valuable input to the team.
"We looked at acceptability, accessibility, accountability, appropriateness, effectiveness and efficiency — and we were able to meet all of those quality-assurance measures," adds Packford. "Knowing we meet all the criteria for quality really prepares us well for spreading our Telehealth-ABR across the whole province."
What is ABR testing? 
During Auditory Brainstem Response (ABR) testing — the most accurate method for diagnostic hearing testing for infants from newborn to six months — the child sleeps while connected to a computer by tiny electrodes taped to the skin.
Small earphones, tucked into the infant's ears, deliver sounds from the computer software, which then measures responses to these sounds via the skin electrodes, to gauge the child's hearing. Depending on how well the child sleeps, testing takes one to three hours.
"We're recording electrical responses from the surface of the child's skin in response to a sound that we present through a small earphone in the child's ear," says Packford. "We're looking at the actual response as the sound travels along the auditory nerve to the brain stem."
Accreditation Canada
All Canadians have the right to safe, high-quality health services.
This is what Accreditation Canada is all about. Through our standards and accreditation programs, we work with health care organizations to help them improve quality, safety, and efficiency so they can offer you the best possible care and service.
We are an independent, not-for-profit organization that has been improving health quality through accreditation since 1958. We accredit more than 1,200 organizations representing 5,700 sites and services across Canada.
These are the organizations you count on to provide safe, quality health care — hospitals, walk-in clinics and labs, emergency medical services, long-term care homes, home care services, mental health services, and community health programs, among others. We also accredit provincial health authorities and health systems.
— Accreditation Canada