'We're going to see everything and anything': Berdusco
Story by Shelly Willsey
Edmonton nurse Teresa Berdusco learned of the Nepal earthquake while watching the news, and her first question to her physician husband was: "Are you going, or am I?"
After a quick review of schedules, they determined she would be the one to travel to Nepal to provide medical aid following the 7.8 magnitude earthquake that rocked the area in and around the capital city of Kathmandu.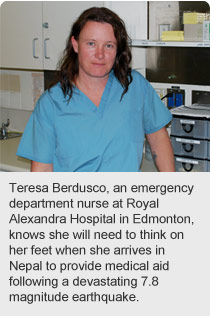 With 15 years experience as an emergency nurse at Alberta Health Services' Royal Alexandra Hospital, Berdusco knows to expect the unexpected.
"In the Royal Alex emergency department, you never know what is coming through the door," says Berdusco.
"And following a catastrophic event like this, we're going to see everything and anything."
"You have to think on your feet. I'll look at someone and say this is what they need, this is what I've got, and then fix them the best I can."
She joins health care professionals from across Canada volunteering with Canadian Medical Assistance Teams (CMAT). In past years, Berdusco travelled with CMAT to provide aid to patients in the Philippines after a typhoon, and in Japan following a tsunami.
"I expect we'll see trauma patients with crush injuries, or injuries from falling debris. But there are also those who were sick before the earthquake and now don't have access to their medication. It's all levels of care," Berdusco says.
When thinking about arriving in an area with complete devastation, and ongoing concerns with food, water and shelter, Berdusco focuses on what is in front of her.
"We might not make a huge difference on a big scale, but I can make at least one person's day better. One at a time, that's all I can do."
Berdusco and her CMAT colleagues are waiting for the official approval for their aid team to enter Nepal, and expect to be on the ground within days.
"My Royal Alex colleagues have been great," she says. "They were all so willing to trade shifts and help me free up three weeks so I could go. I had everything covered within hours."
Berdusco considers her volunteer work as what's necessary to be a global good neighbour.
"We won the best lottery in the world, being born in Canada," she says. "We have the ability to help. And I hope that if Canada ever experienced this kind of catastrophe, that people would come to help us."
Several other AHS staff and physicians are already in Nepal, and others are expected to join Berdusco in the days and weeks ahead.