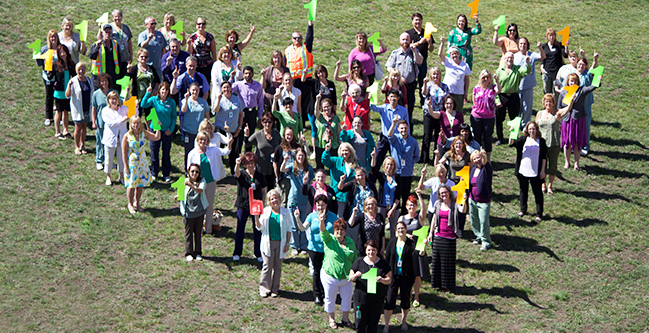 Staff, physicians and volunteers at the Strathcona Community Hospital celebrate the facility's first year of operation.
More than 43,000 patients seen in ED over past 12 months
Story by Sharman Hnatiuk; Photo by Joanne Mikula
The Strathcona Community Hospital is celebrating one year of serving residents in the Sherwood Park area.
The Alberta Health Services facility opened its doors on May 21, 2014 – and over the ensuing 12 months, more than 43,000 patients have come through its emergency department (ED).
"We opened at 8 a.m. and saw 102 patients by midnight," recalls site manager Susan Chesney. "We knew the hospital was going to be a success. It just built and got better with each day. Our one-year anniversary is a wonderful accomplishment."
The facility delivers community-based services, ambulatory care clinics and a 24-hour emergency department supported by on-site laboratory and diagnostic services.
The number of patients using the hospital's ambulatory clinics has increased each month, and these services complement established primary care, public health, and home care services in the community. As well, the addiction and mental health services from Strathcona County are now consolidated at the Strathcona Community Hospital.
"From the day we opened, we have done things differently at this site," says Chesney.
"We are an integrated site with innovative ways of delivering care. We have integrated paramedics, emergency medical technicians, pharmacists, nurse practitioners and physiotherapists in the care in the ED. All of our staff work at full scope of practice. It is a truly collaborative environment that is unique to this facility."
There are more than 360 staff, physicians and volunteers at the hospital, which embraces the principles of patient- and family-centred care.
Hospital-based services also include chronic disease management, community rehabilitation and clinical engineering.