Langdon woman credits study for her remarkable recovery
Story by Greg Harris, photo by Paul Rotzinger
Bernadette Chow had an unforgettable Valentine's Day last year but it had nothing to do with roses or chocolate.
The 68-year-old Langdon woman was hospitalized for what turned out to be a series of strokes that left her unable to walk or talk.
Today, she's back on her feet and speaking about her remarkable recovery which she credits, in part, to a research study she participated in that pushed her to her physical limits.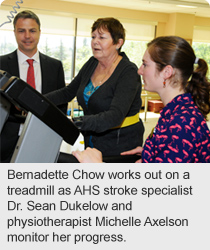 "You have to work really hard after something like this and I think the intensity made the difference," Chow says of the physical therapy she underwent at Carewest's Dr. Vernon Fanning Centre in Calgary.
"The therapists were so amazing – their hearts were in it and that really meant a lot."
Chow was one of the first stroke patients to take part in the new study called DOSE – Determining Optimal Post-stroke Exercise – which is running both at the Fanning Centre and Foothills Medical Centre.
"The underlying idea is that people who have had a stroke are often deconditioned and we don't push them as hard as we probably should in rehab," says Dr. Sean Dukelow, an Alberta Health Services stroke specialist and the principal investigator in the Calgary arm of the national study.
"We think that higher intensity physical therapy will lead to better cardiovascular health, better balance, improved walking and, overall, a faster recovery."
Previous research has measured the benefits of exercise months after recovery but this is believed to be the first study to look at the impact of increased exercise in the weeks immediately following a stroke.
The study is funded by the Canadian Partnership for Stroke Recovery and is happening in Calgary, Vancouver and Toronto. It will form the foundation for future, larger, multi-centred clinical studies in a growing area of research – stroke rehabilitation.
Aside from helping speed up recovery, Dukelow says a more intensive exercise regimen may also help alleviate some of the depression that many stroke patients experience, as well as help improve cognitive ability.
"The rate of Bernadette's recovery was quicker than what I would have expected," says Michelle Axelson, one of the physiotherapists at the Fanning Centre who worked with Chow two hours a day. "Even in her first week, her walking improved quite a bit; she was walking on her own in three weeks."
Axelson says finding the right aerobic zone for each patient can be a challenge since patients all have differing physical capabilities.
"But it's becoming clear that we can push them harder than we have," she says.
Researchers hope to recruit 30 patients in Calgary, 30 in Vancouver and 15 in Toronto. They anticipate they'll be able to report on results in about 18 months.
For Chow, the results are in.
"It was sometimes really hard and I wanted to stop, but I was determined," says Chow.
June is national stroke month.
You can learn more about the signs of a stroke at heartandstroke.ca/fast.