Treatment reduces need for insulin in people with Type 1 diabetes
Story and photo by Sharman Hnatiuk
A year ago, Verlyn Olson had to set an alarm in the middle of the night to check his blood sugar levels.
Today, the 61-year-old – who was diagnosed with Type 1 diabetes 38 years ago – is insulin free and has a feeling of freedom he hasn't experienced in decades, all thanks to a leading-edge treatment pioneered in Alberta.
Earlier this year, Olson underwent two islet cell transplants, which helps people with Type 1 diabetes control their blood glucose levels without daily insulin injections.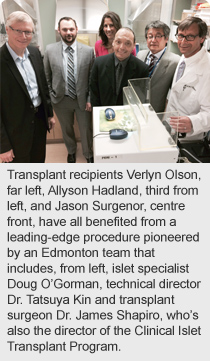 "I still feel weak from the anti-rejection medication but it is a small price to pay for the feeling of freedom and the control I have now," Olson says.
The global leading clinical islet transplant program at the University of Alberta Hospital performed its 500th islet cell transplant in April.
The Edmonton Protocol, developed by Dr. James Shapiro and his team at the Faculty of Medicine & Dentistry, involves isolating islet cells from a donated pancreas and transplanting them via non-surgical injection into the liver of an insulin-dependent recipient with severe Type 1 diabetes.
Olson is one of approximately 225 patients who have undergone one or more transplants since AHS and the faculty established the program in 1999. By taking anti-rejection medication, most of these patients have been able to stop insulin therapy for sustained periods, about half remain insulin-free long term, and many others require small amounts of insulin to keep their blood sugar under control.
"No other program has accomplished anything of this magnitude," says Dr. Shapiro, Canada Research Chair in Regenerative Medicine and Transplantation Surgery, and Director of the Clinical Islet Transplant Program.
"The University of Alberta and Alberta Health Services are international leaders in the treatment of diabetes because of this program."
The donor islet cells produce insulin which helps transplant recipients regain control of their blood sugar levels, eliminating or greatly reducing the need for insulin injections.
Recipients typically undergo one or two transplants, and most patients experience a dramatic decrease in insulin requirement one month after a transplant.
"Approximately five to 10 per cent of Type 1 diabetics are candidates for an islet cell transplant," says Dr. Peter Senior, endocrinologist and clinical islet transplant program medical director. "Our team is extremely proud of this milestone but our waitlist is short and there are many patients in Alberta and Canada who could benefit from this treatment."
To be eligible for treatment, patients must be 18 years of age or older with difficult-to-manage Type 1 diabetes, requiring multiple insulin injections every day.
Most patients who've undergone the treatment had experienced blackouts due to poor blood sugar control.
Dr. Shapiro and his team continue to innovate.
For the 500th transplant, he and his team collaborated with the University of Pittsburgh in a pilot clinical research trial, which involved transplanting the cells under the lining of the stomach rather than in the liver. The patient, an Edmonton man, was the first in the world to receive islets injected into the stomach; the new approach enables physicians to see and biopsy the cells following transplant.
"The treatment we can offer patients today is a very good treatment but it's not a cure," says Dr. Shapiro. "There is always room for improvement and we need to work hard in the lab and continue to make progress. Our team's goal is to drive research today to accelerate a cure for tomorrow."