Glenrose patients making great strides with exoskeleton
Story and photo by Shelly Willsey
Shawn Gunn is excited to be able to stand and walk with the help of a new technology now available for patients at Glenrose Rehabilitation Hospital.
In May, the Glenrose became only the second hospital in western Canada to offer patients the benefits of the Ekso GT™ exoskeleton — a wearable robot that enables a person with any amount of lower extremity weakness to stand up and walk — as part of their rehabilitation therapy.
The Ekso measures the wearer's shifts in balance, weight, and posture — as motors in the suit's knees and hips auto-adjust to deliver the right amount of power that's needed to walk.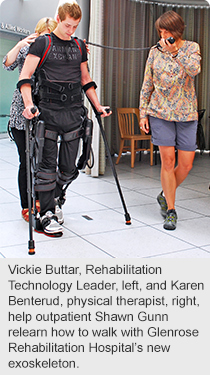 Gunn, a 23-year-old GRH outpatient, was a second year electrical apprentice when a car accident in December 2014 caused a spinal cord injury. Practising his walking with the Ekso is part of his therapy, joining brace-walking and muscle strengthening.
"My goal is to walk again. It feels great to get up and walk around," says the Spruce Grove resident.
"My back feels better and I am retraining my muscles. The Ekso is great because it supports me in setting personal goals and then beating them. The first time I took about 100 steps, now I am at 1,400 and this is just the beginning," says Gunn.
Patients from Edmonton and northern Alberta will benefit from the new technology. After their initial assessment, the patient is scheduled for four appointments and then considered for up to 10 additional sessions. There are currently 31 patients using the Ekso as part of their therapy.
"It is our hope that patients who undergo their gait training with Ekso GT will show quicker improvements in balance, cadence and the overall number of steps taken," says Karen Benterud, physical therapist.
"Early ambulation is critical," says Dr. Rebecca Charbonneau, GRH Physical Medicine & Rehabilitation. "Integrating the Ekso exoskeleton for gait training as part of our overall neurorehabilitation practice offers a huge benefit to many Glenrose patients as it allows for early intervention and task-specific, repetitive exercises."
"Neuroplasticity is the adaptive capacity of the central nervous system to respond to repeated changes in stimuli, which it may do by reorganizing its structure, function or neural connections. In effect, it can help patients learn to walk again, with proper gait pattern."
Neuroplasticity has proven to be fundamental for effective recovery of muscle memory.
The Glenrose Foundation and its donors raised the funds to purchase the Ekso and support the launch of the program for three years.
"Not only are the medical benefits clear, we also believe in the qualitative benefits," says Wendy Dugas, President & CEO, Glenrose Rehabilitation Hospital Foundation.
"When we improve a patient's self-esteem because they could stand and look eye to eye with their loved ones and care team — we have invested wisely. We believe this will carry them forward to continue to denying defeat."
The Ekso is also a tool to help patients earlier in their healing journey. For patients who are unable to walk, the Ekso helps by supporting a sit-and-stand movement, as well as ambulation they otherwise wouldn't be able to perform.
"I do brace-walking, too, but I feel like I'm getting more from the Ekso," says Gunn. "I was pretty excited to stand and walk around. It's crazy how much it's helped. It's awesome!"