Pie fight sweetens pot for Stollery Children's Hospital Foundation
Story by Kerri Robins; photo by Lauren Koma
Thanks to 12 cans of whipped cream, a bake sale and some determined Grade Sixers, the Stollery Children's Hospital Foundation is $500 richer.
"We decided to have fun for Mr. Keating's birthday, so we duct-taped him to the wall and threw whipped cream at him," says Haley Allen, with a laugh.
Haley, 12, and her classmates at École Pine Grove Middle School in Edson started a fundraising project in March after their teacher, Lauren Koma, asked them how they could be good citizens.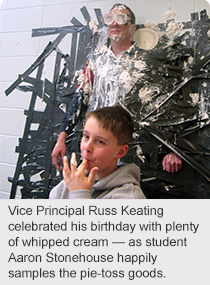 It would appear there's no better way to kick off a fundraising project than by taping the vice principal to the wall and throwing whipped-cream pies at him.
Plus, these kids had a great cause in mind.
"The kids wanted to donate the funds to other children who needed it, and most of them knew someone personally, or had been to the Stollery Children's Hospital themselves," says Koma.
It's about Stollery kids helping Stollery kids and, while the funds haven't been earmarked at this point, this donation comes with a lot of sweetness.
"We just wanted to make it better for the kids at the Stollery and want them to be happy and to hopefully find a cure to why they're sick," says Haley, who spearheaded the campaign. "And we didn't need the money."
Vice Principal Russ Keating, the willing target of the pie-tossers, remains good-natured about the 'fun-raiser.'
"It was a strange feeling having things thrown at my face without being able to move," jokes Keating. "The kids were so enthusiastic, not only throwing whipped cream at me, but participating in fundraising projects."
Koma says she's really proud of her students.
"It's wonderful seeing them contribute to their community, and show such care and compassion for their peers through their fundraising," she adds. "And they sure had fun in the process."
Mike House, President and CEO of the Stollery Children's Hospital Foundation, says he's tickled with this project.
"It just warms my heart when I hear about kids helping kids," he says.
"It's these children — with their great ideas, eagerness and kindness — that make our work so gratifying and personal. I'm thrilled to see such community spirit and passion."
As for Haley, when asked whether she'd do it again, her answer was a resounding: "Yes!"
But she's still hoping to do more.
"I think that if we can do something in the summer before the school year ends," says Haley, "we could raise money for another charity, like helping cancer research."
For more information, please visit www.stollerykids.com