Bereaved mother highlights danger of killer drug
Story and photo by Sharman Hnatiuk
Petra Schulz knows all too well the dangers of fentanyl. A year ago she lost her son Danny, 25, to an accidental fentanyl overdose.
Danny had struggled with opiate abuse for about three years. He had been in recovery for a year when he had a relapse. Unfortunately, on that day he bought what he thought was OxyContin. Instead, he consumed fentanyl, a drug that is 20 times more toxic.
Today, Schulz is helping to put a face to drug addiction in our community through mumsDU — Moms United and Mandated to Saving the lives of Drug Users — a collective of Canadian mothers who have lost sons and daughters to overdose and other drug-related harms. By sharing her experience, and advocating for harm-reduction strategies, she is helping to bring awareness to the dangers of fentanyl.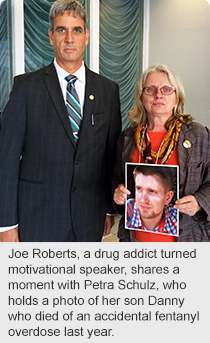 "Major lifestyle changes don't just happen overnight. Anyone who has every tried to quit smoking, tried eating better, or to lose weight will not do it on the first try, they will relapse, " explains Schulz. "We know the same is with drug users. We need to help keep them alive so they can make a better choice on another day."
Joe Roberts is a motivational speaker who shares his story about going from skid row to CEO. Those in attendance at the CleanScene Network for Youth fentanyl symposium in Edmonton heard how Roberts was able to escape a life of poverty and homelessness as a heroin addict on the streets of Vancouver.
"I am the product of community investment gone well," says Roberts. "I had the support from family, the support of resources in my community, and access to treatment. My story is one of late intervention — but it is proof that it is never too late."
Dr. Karine Meador, assistant director of inner city health and wellness, and a physician with the Addiction Recovery and Community Health (ARCH) program at the Royal Alexandra Hospital, has seen an increase in the use of fentanyl in Alberta.
What is concerning, she says, is the increase in use with people who don't know they are using fentanyl; the drug is increasingly showing up in other drugs or being mistaken for others, as it did in Danny's situation.
"We have seen an increase in the number of overdoses and the number of people admitted who are in opiate withdrawal coming through the RAH," adds Dr. Meador. "Many of these individuals are looking for assistance to stop using these drugs, and harm reduction is one way we can help them."
Dr. Meador says that harm-reduction strategies such as opioid overdose reversal medications for drug users can seem confusing to many people, but harm-reduction principles are practised in other parts of daily life.
"Driving a car can be dangerous, this is why we have speed limits, licensing programs and seat belts. We as a society don't condone speeding or getting into car accidents, but if it happens, we want drivers to be safe," she says.
"It is the same with drug use. We are not condoning or approving the use of drugs. Instead we understand this is the decision an individual is making at that time in their life. We want to keep them safe while they are making these decisions."
The consensus from the Sept. 25 fentanyl symposium is that fighting this dangerous drug requires raising awareness of the use, and reach, that drugs have in the community as well as the impact they can have on the lives of friends and families.
"Overdose does not discriminate," says Schulz. "It could have been anyone's son who overdosed — but sadly it was mine. Staying silent will not make fentanyl go away."
For more information the CleanScene Network for Youth visit http://www.cleanscene.ca/#!fentanylkills/c16lx . Fentanyl facts and resources are also available on Alberta Health Services website at www.drugsfool.ca