Compliance rates on rise across the province
Story by Tara Grindle and Shelly Willsey, photo Shelly Willsey
EDMONTON — Thursday, October 15, 2015 is now a historic day that will forever loom large in the chronicles of healthy hygiene, thanks to staff at the Royal Alexandra Hospital who set a new world's record for the most people consecutively cleaning their hands.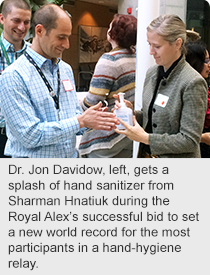 In fact, they smashed the old record of 300 people by having a total of 815 staff, physicians, volunteers, patients, visitors and community members line up to clean their hands over three-and-a-half hours of hale and hearty sanitizing.
Participants queued up and passed hand sanitizer from one person to the next as they cleaned their hands with alcohol-based hand rub.
Documentation — including video, photos and signatures — was collected throughout the event and has now been submitted to Guinness World Records for their approval and acknowledgment of the new benchmark.
The successful bid, organized to recognize Global Handwashing Day, also saw Alberta Health Services (AHS) staff and physicians at sites across the province participate in hand-sanitizing relays to raise awareness of the importance of hand hygiene.
"Our staff was excited to participate and is proud to represent all of AHS in attempting to set a new Guinness World Record," says co-facility medical director Dr. Curtis Johnston. "This relay was a perfect way to bring our teams together, have fun, and remind everyone of the importance of clean hands."
Hand hygiene has been proven the single most-effective way to prevent the spread of infections and communicable diseases.
"Consistent and proper hand hygiene is vital to our patients' safety and, with the annual influenza season drawing near, it's good to be reminded of the importance of having clean hands," says Dr. Johnston. "Our patients deserve and should expect 100 per cent clean hands with every health care encounter, every time. That is our goal."
Last November, hand-hygiene staff was hired in all five AHS zones. They perform hand-hygiene reviews, support new initiatives and provide continuous feedback to staff and physicians helping to improve hand-hygiene performance.
Newly released data shows hand-hygiene rates for AHS staff continues to improve and now sits at 79.7 per cent — the highest level achieved in the organization to date.
This represents a 58-per-cent improvement in hand-hygiene compliance since AHS began doing provincewide hand-hygiene reviews in 2011.
The latest AHS hand-hygiene review collected 97,425 observations in 117 facilities across Alberta from July to September of this year.