Walking the Red Road: Destination, Sobriety
Walking the Red Road: Destination, Sobriety
November 6, 2015
Local resident teams up with AHS to support National Addictions Awareness Week
Story and photo by Lisa Peters
A Grande Prairie resident is working to make a difference during National Addictions Awareness Week this year, held November 15-21, with support from Alberta Health Services (AHS) and other community organizations.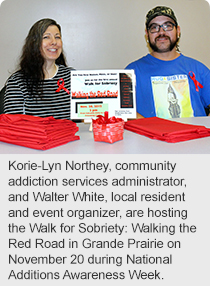 Walter White, raised in the Enoch Cree Nation near Edmonton, has lived in Grande Prairie for over 10 years and says he wants to help prevent youth from going down the same path that he had.
"I was sexually abused as a child by a family friend, but never told anyone or spoke about it," says White. "I was intimidated as a child – that's of course how predators work - and the trauma led me to a dark path."
White says he discovered alcohol at the age of 14 and within two weeks had dropped out of school, left home and was out on the streets.
"Alcohol was my escape," he says.
At the age of 26, White enrolled himself in relapse and recovery programs in Edmonton.
"It wasn't until I became involved with professional, structured programs that my recovery began," says White. "These programs helped me learn how to live as a normal citizen."
He worked on fighting his addictions and learning how to function as a responsible citizen, including how to pay rent and hold a job.
"These are things I never learned growing up on the streets," he says.
White then moved to Grande Prairie to start building a new life.
Today, he is involved with various aboriginal community programs in an effort to help others. He felt that hosting something during National Addictions Awareness Week (NAAW) would be good for the community, and his first step towards making this happen was a phone call to AHS.
"I had a dream, or a vision, about an event that I wanted to hold to help raise awareness about addictions, the stigma around it, and the support that's available," he explains.
White says he envisioned walking down a red road with others, taking a stand for sobriety.
"I called the AHS office and they put me through to Korie-Lyn Northey, community addiction services administrator, and immediately she was very supportive and interested in my idea."
Since then, Northey has been working with White to make his vision of the Walk for Sobriety: Walking the Red Road, a reality. This included providing support services, board meeting space, and helping him get in touch with partner agencies.
"I was really happy to hear from Walter," says Northey. "It's not very often we get community members coming to us with new ideas that they want to be involved in. He's very engaged and determined."
The City of Grande Prairie, the Salvation Army, the Grande Prairie Friendship Centre and HIV North are also contributing to the event.
The Sobriety Walk: Walking the Red Road, will be held during NAAW on Friday, November 20. It begins at the Salvation Army at 2 p.m., with all local residents invited to attend and support sobriety. An aboriginal pipe ceremony and round dance will occur later in the afternoon.
More information about other NAAW events being held in a community near you will be available soon.
For more information about the Walk for Sobriety: Walking the Red Road, contact Northey at 780-538-6330.