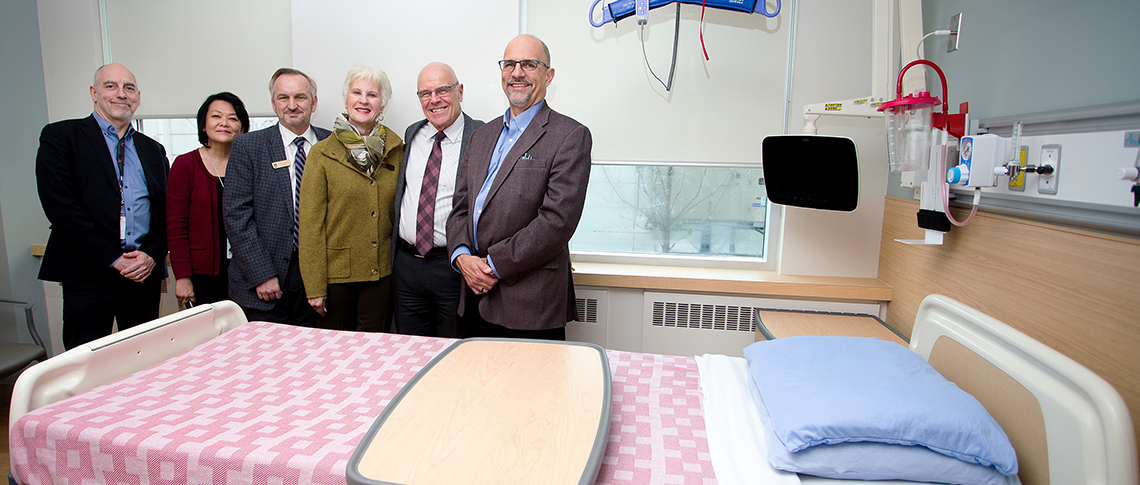 Sturgeon Community Hospital Foundation funds 14 new Medicine beds
Photo courtesy Sturgeon Community Hospital Foundation
Emergency Department patients who require admission to hospital can now get a bed faster thanks to the addition of 14 new beds this month to the Medicine Program at Sturgeon Community Hospital.
With $500,000 in new furnishings and equipment funded by the Sturgeon Community Hospital Foundation — in support of the hospital's $2.8M redevelopment of Unit 19 for the hospital's Medicine Program — the program's capacity has expanded to 89 beds.
"The additional beds really help us with our overall medical bed capacity," says Wendy Tanaka-Collins, Hospital Director. "When our new Emergency Department opened in 2010, our capacity there increased; we now see about 50,000 visits a year. Approximately eight per cent of those visits become admissions.
"Getting patients to the right bed the first time improves continuity of care," says Tanaka Collins. "Our goal is to reduce the amount of time admitted patients have to stay in the Emergency Department."
Wally Monson, Chair of the Sturgeon Community Hospital Foundation, says he's happy with the expansion as it helps to alleviate the pressure and wait times in the ED.
"As our community continues growing and health care needs along with it, we have to keep up," says Monson. "I'm pleased that we're able to contribute to the already great care our staff gives patients every day."
"Our ED averages 140 visits each day, and the new beds have certainly eased the pressure of having admitted medicine patients waiting in the ED for a bed," says Shirley Baumgartner, Patient Care Manager of Medicine, Critical Care and Cardiac Clinic.
"As well, the new beds help us reduce the need to transfer patients from unit to unit," she adds. "It's important we get patients in the right bed the first time. For example, we don't want to take up a bed in our surgical unit for a patient with non-surgical needs."
Other inpatient areas at the Sturgeon Community Hospital include the surgical and obstetrical inpatient units.
The expansion was achieved through the redevelopment of existing space at the hospital, which saw 14 new rooms open, including private and semi-private care.
For more information, please visit www.sturgeonhospitalfoundation.org.