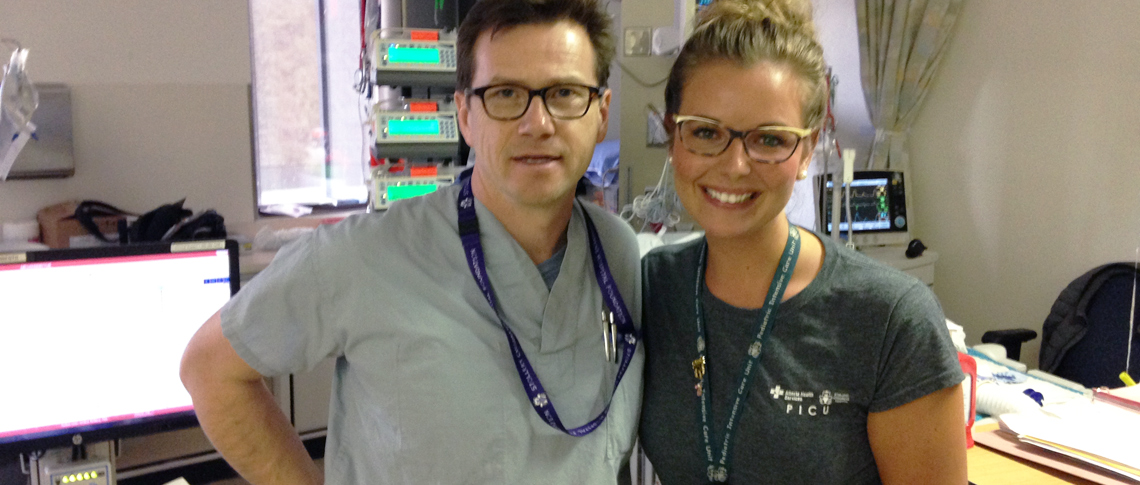 Dr. Laurance Lequier and nurse Brittany Collins on their 12-hour shift
Story by: Sharman Hnatiuk
In less than four days, a photo of Dr. Laurance Lequier, Medical Director of the Stollery Pediatric Intensive Care Unit (PICU), who worked as a registered nurse for the day, spread to more than 250,000 Facebook users. The annual fundraiser for the PICU social committee at the Stollery Children's Hospital is sparking praise from nurses around the world.
PICU staff and physicians donated $1 to cast a vote for Lequire to spend the day as a nurse.  "Honestly, it was a very educational and eye-opening experience," says Lequier. It also resonated with thousands on Facebook, who liked and shared the photo. Praise for the initiative ranged from "awesome" to "what a great idea!!! We should adopt this approach down under."
Brittany Collins, a registered nurse (RN) on the PICU for three and a half years, was selected to spend the 7 a.m. to 7 p.m. shift with Lequier. "I think it was quite the transition for him to go from writing orders at the bedside for many patients on the floor to doing the hands-on work with one patient for the whole shift," says Collins. "It was fun showing him how we weigh our patients, prime a machine, and for him to realize all the charting we do."
As a critical care physician, Lequier spends 15 to 30 minutes with each of his 12 to 16 patients; during his RN shift, he spent the day with one patient.
 "I've always had respect for the entire critical care team. As a physician I think we take for granted that we write an order and the work just gets done," says Lequier.
"As an RN I get to care for one family throughout the day, and other team members including RNs, respiratory therapists and aides. It is a team I am very proud to be a part of."
 "After my day as an RN, I am going to suggest that all the residents who train on our unit do the same," says Dr. Lequier. "I think there is a huge opportunity to learn how each person on a unit contributes to the care of one patient."
Lequier believes the role reversal could be beneficial to physicians on any unit in any facility throughout Alberta Health Services.
"RNs spend more time with patients than we as physicians do, having an understanding of how they care for a patient and experiencing a completely different view can only make us better physicians."