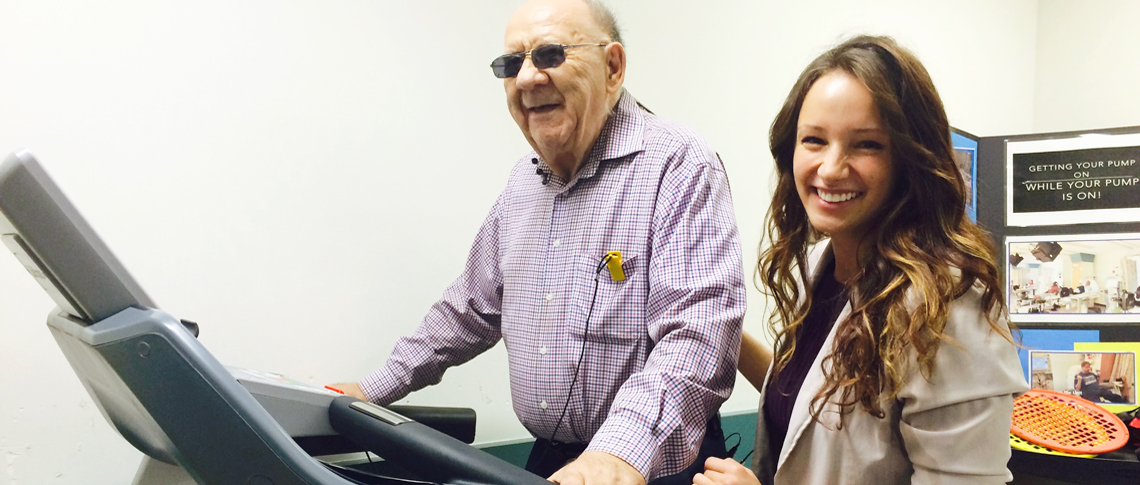 Exercise program help patients with kidney disease
Story by: Sharman Hnatiuk
Two years ago, Fred Sydor, 84-year-old Edmonton man, joined a pilot project to start exercising during his dialysis treatment. He's been getting his pump on while his pump is on ever since.
"I'm here three times a week for four hours at a time, I might as well do something productive," says Sydor. "I would probably be in a wheelchair if I hadn't joined this program."
Prior to joining the Dialysize Exercise Program, Sydor who worked in maintenance at the University of Alberta Hospital (UAH) for over forty years, would normally sleep or watch television during treatments. Today, Sydor is one of 60 patients at the site who now exercises regularly during dialysis treatments.
Iwona Gabrys, a kinesiologist, works with patients one-on-one to create individual programs tailored to their ability. Dialysis chairs are modified to be used as exercise bikes during treatments. In addition, patients use leg weights during dialysis to improve their strength.
"Patients have seen a reduction in pain or cramping while on dialysis, but also an increase in strength and improvement in their overall well-being," says Gabrys. "We've seen patients like Fred even integrate exercise into their daily routine outside the hospital."
The Kidney Foundation and Flaman Group of Companies donated a leg press and a treadmill to the Dialysize Exercise Program at the UAH.