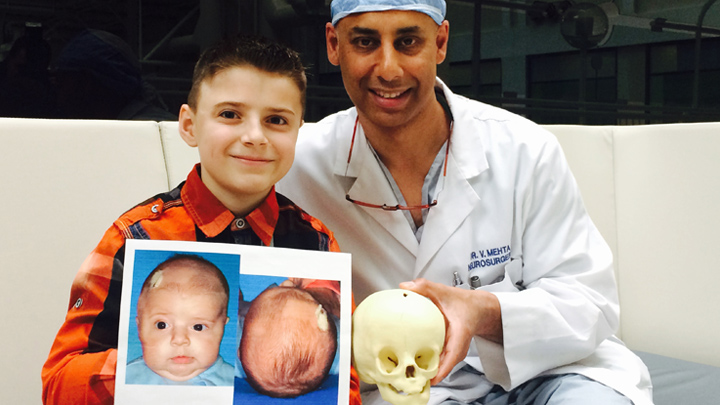 Stollery's first-in-Canada skull-shaping surgery marks 10th anniversary
Story and photo by Sharman Hnatiuk
EDMONTON — When he's out on the ice playing hockey alongside his teammates, Brandt Johner looks like your average 10-year-old. You'd never suspect the Grimshaw boy is living proof of a Canadian medical milestone — yet at just two months of age he became the first in Canada to get Endoscopic Unilateral Coronal Craniosynostosis surgery at Alberta Health Services' Stollery Children's Hospital.
Since then, Brandt — whose newborn skull bones had fused together too early — has shown no ill effects or deficiencies. His 2006 surgery was performed with a then-new minimally invasive technique, as opposed to having a much-larger incision from ear-to-ear and the removal of parts of the skull and eye socket.
Brandt's parents, Amber and Harley Johner, still recall their baby's two-week checkup in Peace River — they were told they needed see a specialist in Grande Prairie the following day. There, after a CT scan and an X-ray, Brandt was diagnosed with Craniosynostosis, which occurs when the bones fuse together early — often before the baby is born — instead of gradually joining together later in life. Only three weeks later, the Johners found themselves at the Stollery.
"It was so confusing at the beginning," says mother Amber. "It was scary listening to different neurosurgery options for our baby boy."
If left untreated, there's a small chance that pressure may build up in the skull to cause irreversible brain damage. In some instances, the child's brain compensates for the fused bones by growing in directions parallel to the closure. The resulting growth pattern may provide the space needed by a growing brain.
Brandt's operation involved incisions the size of a pencil eraser. Pieces of bone were removed through the small incisions with the aid of an endoscope. Afterwards, he needed to wear a custom helmet for several months to help shape his skull.
Dr. Vivek Mehta, divisional director of Pediatric Neurosurgery at the Stollery, travelled to Texas in 2006 to learn the surgical technique. While the procedure is not ideal for every child, he says the option made sense for Brandt who, being only two months at the time, would benefit most from the minimally invasive surgery to enjoy normal, healthy development.
"We were told he could have vision problems, headaches or even developmental delays," says Amber, "but we haven't seen any sign of that. Brandt is one of the smartest in his class, plays hockey, swims and snowboards."
The Pediatric Head Shape Clinic at the Stollery sees about 40-50 children per week and refers those with potential synostosis for a neurosurgical consult. About two to four per cent of these young patients are diagnosed with Craniosynostosis.
Since Dr. Mehta's pioneering surgery in 2006, the procedure has been used more than 50 times at the Stollery, and has also been performed in Calgary, Vancouver and Toronto.