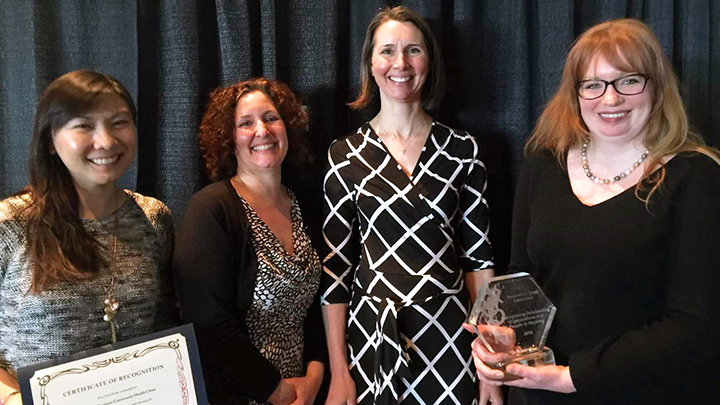 Edmonton health care team recognized for inner city care
Story by Kerri Robins
EDMONTON — The Royal Alexandra Hospital (RAH) and Alberta Health Services congratulate Dr. Kathryn Dong and her inner city health clinical team in Edmonton who were awarded a 2016 ROOPH Award for their work with ARCH (Addiction Recovery and Community Health).
On March 10th, Homeward Trust recognized the ARCH Team for their outstanding work and collaboration in housing with a ROOPH (Recognizing Outstanding Organizations and People in Housing) Award. Homeward Trust Edmonton is a not-for-profit organization committed to a community-based approach with a goal of ending homelessness in Edmonton.
ARCH focuses on how it can help patients meet their goals around substance use and incorporates the social determinants of health into treatment planning. Project Director and Emergency Department (ED) Physician Dr. Kathryn Dong and her team have worked tirelessly towards the project goals.
"Prior to this project we would see people in emergency and treat a condition such as pneumonia, but upon release they'd go back to their circumstances, for example, an addiction, mental health concerns and/or homelessness," says Dr. Dong.
"Many of our more high-risk community members use EDs when seeking health care, and treating their immediate health care needs, without adequately addressing the other important factors impacting their health, doesn't lead to optimal health outcomes."
Statistics show that more than 68 per cent of patients referred to ARCH are seen in the ED or admitted to the general medicine department in the hospital. With a median age of 45 years, at least 63 per cent of ARCH patients are male, and 45 per cent self-identify as Aboriginal.
In addition, 78 per cent currently live at or below the poverty line and 47 per cent are homeless. The majority of people referred to ARCH either report a history of mental illness or screen positive for depression.
The ARCH Team is the clinical arm of the Inner City Health and Wellness Program, a three-year pilot project funded by the Royal Alexandra Hospital Foundation until Jan 1, 2017. The project goal is to increase health-care access and to improve outcomes for patients with substance-use disorders and/or those dealing with social inequity.
Since the ARCH Team began seeing patients in July 2014, more than 1100 patients have been treated, and approximately 72,500 people visit the hospital's ED every year.
"We do about 30 consults a week," says Dr. Dong.
"Making use of our partner support services, such as drug treatment and housing, helps us provide more specialized care; like obtaining proper identification or help getting a health care card," says Dr. Dong.
"Our vision is to create a program where we work with people after they leave the emergency department to assist them in meeting their own goals; this allows us to provide a much more intensive intervention that we can in one ED visit - with great results!."