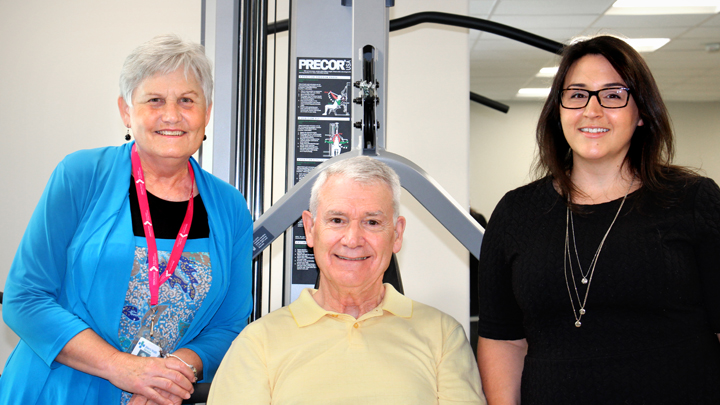 CancerControl Alberta event connects patients with survivors
Story and photo by Kristin Bernhard
A diagnosis of cancer can be devastating and the treatments that follow can take a toll on the body and mind. The journey through cancer is not easy, and it can be difficult to navigate.
But for prostate cancer survivor Colin Cantlie, the key to getting through it all is attitude, education and participation.
"Attitude is so important in your recovery," says Cantlie. "If your attitude is to shut down, then your physical and emotional health may follow."
CancerControl Alberta (CCA) offers a way for patients to connect with other survivors and get practical tips and information about services available through a twice-yearly education event called Living Your Best Life with Cancer and Beyond (LYBL).
Run by the CCA Transitions of Care Provincial Project Team, the event is designed to support cancer survivors in living well with and beyond their diagnosis.
Cantlie was diagnosed with prostate cancer in 2014. After opting for a radical prostatectomy — an operation that removes the prostate gland and some of the surrounding tissue — he is currently in recovery and trying to get the most out of his life, even if it is one with cancer.
"You must have an attitude that helps you move forward with enthusiasm to help you get better and stay better," he says.
Cantlie believes one of the best ways to cultivate a positive attitude is by having conversations, getting out there and being active with others.
"Its' your body and your health, you need to know what's happening. You may not like the diagnosis but you can change a lot by your attitude and your approach and by learning something new about your cancer every day."
The LYBL sessions occur twice a year in Calgary and Edmonton and are open through video teleconference at all 17 cancer centres; it is the only outreach cancer education event in Alberta that is available to the entire province.
Cantlie not only participates in the sessions, he was also a panelist at the session in April 2016.
"These events are so valuable for people with cancer," he says. "It's a way to get out and meet new people and see what other people are feeling."
"It's important to not shut yourself in, it's important to get out in the community and talk, it's important for your own well-being if nothing else."
Amanda Jacques, Provincial Education Specialist – Survivorship, CCA, says that each participating AHS cancer centre site creates a local live event with survivors, like Cantlie, who share their cancer story and answer questions from the audience.
"We want to give patients and families the ability to take the next steps and really empower them to live their best life despite having cancer," Says Jacques.
The events focus on tips and easy steps that participants can take right away to live their best life by:
adding movement or exercise into their day
having a positive outlook
appreciating things that are good in their life
learning how to minimize potential side effects
Unlike many educational sessions and events, the LYBL has been created for people with all types of cancer.
"There are many different cancer organizations that support patients," says Jacques. "However, not all types of cancers have these organizations – and that can be challenging for patients who want to connect with people who have had similar experiences."
LYBL is unique in its ability to bring cancer survivors with various types and stages of diagnosis together from different towns and cities across the province.
This uniqueness is what draws Cantlie in.
"Although we do not all have the same form of cancer or the same outlook or prognosis, there is the common link between us that we are all survivors. We do not all think the same, so to share our different stories with each other allows us to support each other in a unique way."
Through evaluation forms and feedback, participants identify the topics that are important to them and the information they want to hear at the sessions. This information is then used to create the next event.
"The goal is to harness the patients' voices in these events," says Jacques.
"We often hear back: 'today I realized that I am not alone'."
LYBL events began four years ago and have drawn more than 2,000 participants from across Alberta.
Deb Allatt, AHS Lead, Provincial Patient Education, Patient Engagement and Supportive Care, says the program happens at a very key point in treatment.
"We've heard over and over through various forms of feedback that the point in time when a patient is leaving active treatment is when there is a strong reaction to what has gone on and the intensity of cancer treatments that just ended."
Thanks to a grant from the Alberta Cancer Foundation, the project team has been able to pilot, trial and evaluate many different versions of the event. After testing various formats, lengths, topics and frequency over the past four years, they believe they have arrived at a successful model.
"We have been able to create an environment that helps patients and their family members relax, share their stories, and make connections with other cancer survivors and resources in their communities," says Jacques.
To learn more about LYBL and other support programs available for cancer patients and families, please visit http://www.albertahealthservices.ca/cancer/Page9613.aspx