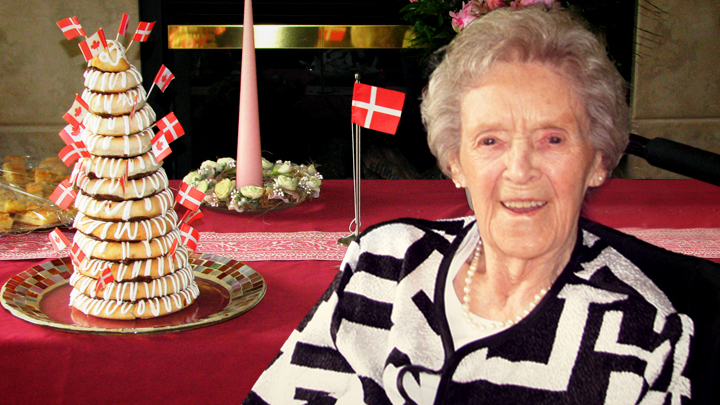 Born before the First World War, centenarian Else Lindberg takes the cake at CapitalCare
Story by Bernadette DeSantis; photo courtesy of CapitalCare
EDMONTON — In her youth, Else Lindberg was renowned in the hospitality industry for her traditional Danish cuisine, and was known to cook for up to 700 people.
Today, as the 102-year-old and her descendants gather to celebrate her birthday, she was surprised to see her birthday treats — including the stunning, many-layered Kransekage cake — were prepared by someone else, for a change.
"I'm happy, so happy," says Else, holding hands with her daughter, Jana.
"Mum has always been grateful and appreciative of everything that has come her way in life," says Jana Lindberg, the youngest of Else's three daughters. "She sees her purpose in helping others. I think that is why she is so well-loved."
Else was born June 8, 1914 in Denmark, the second-oldest of 12 siblings. She has outlived all but one brother — now 83 — as well as her husband. Else has three daughters, seven grandchildren and 11 great-grandchildren.
While in Denmark, Else learned to cook at a young age and became a chef. She moved to Edmonton in 1957 and became very popular for catering and cooking traditional Danish food.
When her husband passed away, Else moved in with her daughter Jana.
"She's always been a social person, and she wasn't doing very well on her own," says Jana.
While living with family, Else thrived until the age of 96 when she fell and broke a hip. She's lived at CapitalCare Grandview since 2011.
"Even here at Grandview, she is always looking to help others," says Jana. "She foot-pedals down the hallway and if someone needs company, she'll stop and visit with them. Her connection to people is what keeps her going."
Else is also among a growing group of seniors living well into their golden years.
Statistics Canada says there are nearly 7,000 Canadians 100 years of age or older, and that their number doubled in the decade from 2001 to 2011. Predictions suggest there could be more than 78,000 centenarians in 2061, when surviving baby boomers will have reached this age group.
At CapitalCare in Edmonton and area, there are 21 people over the age of 100. The oldest client is 106 and still lives at home, with family and support from the the CHOICE (Comprehensive Home Option of Integrated Care for the Elderly) Program.
Operating in Edmonton and area since 1963, CapitalCare is one of the largest public continuing care organizations in Canada, helping 1,400 residents and 300 community clients to live quality lives when they need care. CapitalCare is a wholly-owned subsidiary of Alberta Health Services (AHS).