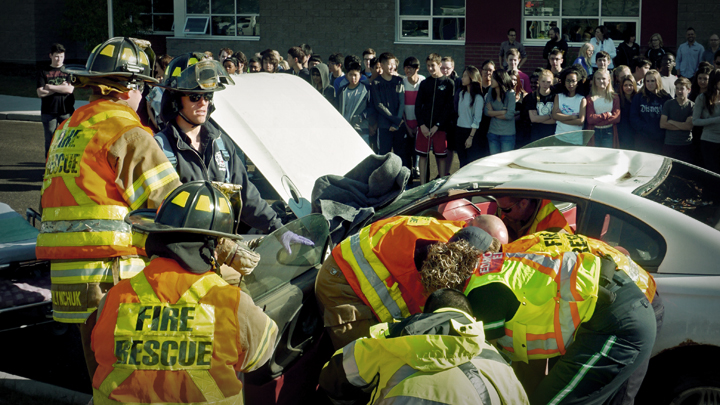 P.A.R.T.Y. 'crashers' give Grade 9 students a shocking safety lesson
Story and photo by Mikayla Yasinksi
EDMONTON — Nothing hammers home the dangers and consequences of distracted driving like crashing a car right in front of a high school full of students.
With grad season in full swing, more than 100 Grade 9 students at Mother Margaret Mary Catholic High School witnessed the horror firsthand thanks to the Preventing Alcohol and Risk-related Trauma in Youth (P.A.R.T.Y.) Program and the EMS first responders of Alberta Health Services (AHS).
As a way to promote safety behind the wheel, the students came outside to watch a real-life simulation of a car crash caused by texting and driving.
"Many of the incidents we come across in our line of work are preventable," says Alex Campbell, EMS Public Education Officer.
"These students will soon be old enough to get their driver's licence and will have to make important decisions. We surprised the students with the simulation to show how these situations can occur when you least expect them."
An actor lathered in fake blood played the part of a distracted driver who meets with disaster while watching her phone instead of the road.
Students watched on as EMS, Edmonton Police and Edmonton Fire Rescue Services teamed up to assess and secure the scene, remove the unconscious driver from the smashed vehicle, and transport her on a stretcher to a waiting ambulance.
The simulation continued inside the school gym, where physicians and nurses recreated an Emergency Department trauma room to manage her care. Many students stared with wide eyes as the patient's mother was told her daughter may not survive.
"Watching this scene, I was able to see consequences of texting and driving first hand," says Alyssa Young, 14. "I know people who text and drive, and this shows how it can affect not only their life, but the lives of others."
When asked what she would tell her friends who text and drive, the Grade 9 student adds: "It's just not worth it."
The goal of this P.A.R.T.Y. Program demonstration was not to scare the students, but to prevent collisions by giving youth the information they need to make smart, informed decisions when it comes to operating motor vehicles.
"Teachers often comment that students want to talk about what they witnessed for days," says Marcia Lee, P.A.R.T.Y. Program Coordinator. "They always note how they now see things in a different light."
Over the course of the simulation, 22 first responders, trauma physicians and staff cared for the sole patient.
"We wanted to show the students that the consequences of their choices extend beyond them," says Lee. "One poor decision creates a ripple effect, and impacts the lives of others. The purpose of the shock factor is to make the message stay with them."
In 2014 there were 144,470 motor vehicle collisions across Alberta; 369 people died and 18,745 were injured.
A national initiative, the P.A.R.T.Y. Program's mission is to keep young people off stretchers and out of trauma rooms.