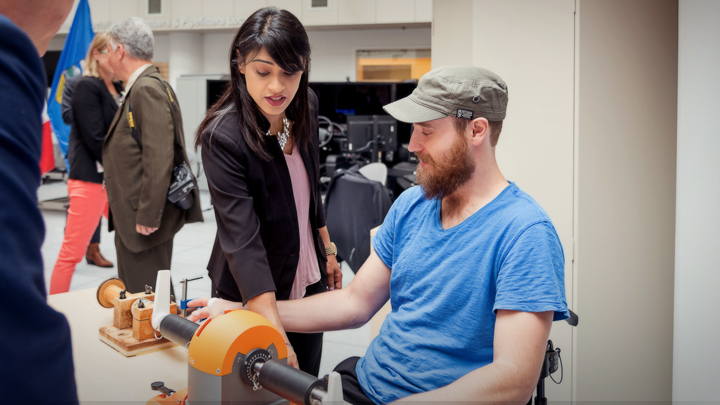 New technology hub puts rehab hospital at forefront of health-care innovation
Story by Shelly Willsey; photo by Raylene Pearson
EDMONTON — When a snowboarding accident damaged his spine and left his hands too weak to turn a door handle or key this past February, Eric Nielson knew he had some rehab ahead of him to regain the strength needed for daily living.
Thanks to the leading-edge technology being developed right here through the Glenrose Rehabilitation Research, Innovation and Technology (GRRIT) hub, he and other patients like him at the Glenrose Rehabilitation Hospital are getting the help they need.
Today, only a few months after his accident, the 29-year-old Edmonton resident now has four times the grip strength he had after his injury and has started his search for an apartment so he can resume living independently.
Nielson credits his recovery to a hub-developed device called FEPS (Flex, Extension, Pronation, Supination), which offers targeted wrist and hand flexing and extending for patients, and allows therapists to increase or decrease resistance to help patients regain strength.
"I've tried the first FEPS prototype and it works, but the newest prototype is more comfortable and has stronger measurement capabilities, so I can see my progression," says Nielson. "It's exciting to know that, as a patient, others are thinking of inventions and improvements to help me, as well as patients in other places."
Established last year with the aim of advancing health innovation in Western Canada, the GRRIT hub fosters interactions between Alberta Health Services (AHS) clinicians, physicians, patients and families, small- and medium-sized businesses, post-secondary institutions, donors and funding groups.
Through these partnerships, new technologies are developed, given a tryout to assess their effectiveness and ultimately put in place to help patients with their rehabilitation.
"Our clinicians and patients are constantly looking for innovations to improve the rehabilitation journey," says Dr. Gary Faulkner, director of GRH Rehabilitation Research Innovation & Technology & GRRIT.
"Building strong partnerships with industry brings these innovations to life and gets them into the hands of the patients who need them. GRRIT facilitates these collaborations in a manner that provides benefits for the patients and families, and creates opportunities for our industrial and academic partners."
The hub has already developed several successful assistive devices, including a big-screen touch table to improve fine motor skills, a glove to help patients grip objects, and a set of adjustable stairs to help patients gain the confidence, balance and ability to climb stairs.
GRRIT was developed through funding from the federal Western Diversification Program ($420,000), the Glenrose Rehabilitation Hospital Foundation ($320,000), the Northern Alberta Benefits Society for Scoliosis ($120,000) and the Government of Alberta ($100,000).
"The Glenrose is unique through its highly specialized focus on rehabilitation." says David King, Chair of the Glenrose Rehabilitation Hospital Foundation Board of Trustees. "When you add GRRIT's unique approach of using local grassroots innovation together with industry input to focus on patient needs, our unparallelled process really starts to shine."
The hub accelerates opportunities that solve patient needs by taking advantage of input from clinicians and industry early in the development process.
"GRRIT is positioning Western Canada at the forefront of innovation," says Bardish Chagger, Minister of Small Business and Tourism for the federal government. "Today's showcase is an important milestone for Alberta's growing capacity for science and technology commercialization.
"By building on these strengths, we are creating jobs for the middle class, enhancing homegrown talent, and helping companies expand beyond our borders."