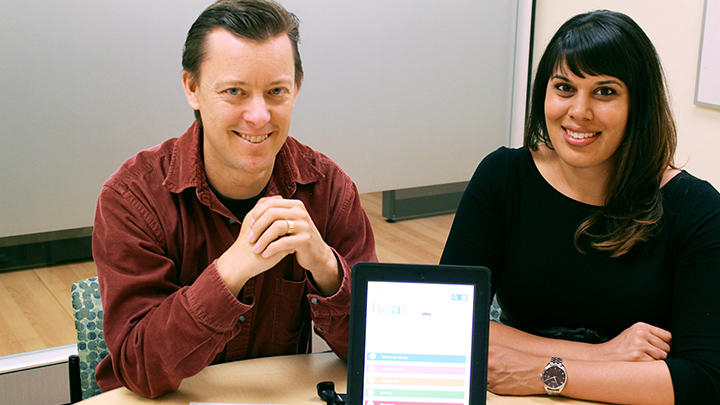 Reliable information now online for minor childhood illness and injury not requiring treatment in the emergency department
Story and photo by Janet Mezzarobba
Your toddler wakes up in the middle of the night with the sniffles, a cough and a fever. Your 10- year-old comes home from an afternoon at the park with a red rash on their arm. Having a sick child can be scary and not knowing how to best manage a child's illness can be daunting. Now, a new resource to help parents manage common childhood illnesses and injuries that don't require treatment in an emergency department (ED) is available online.
Developed by a team of emergency doctors and clinicians from Alberta Children's Hospital and Stollery Children's Hospital, the HEAL (Health Education and Learning) website aims to provide families across Alberta with easily accessible, reliable information about common minor illnesses and injuries in children.
"We know that it can be scary when your child is sick. The good news is that most of the time, kids don't need to go to the emergency department," says Dr. Shirmee Doshi, Alberta Children's Hospital Emergency Department physician.
"While children with certain illnesses such as cough, fever, or earaches may feel very uncomfortable, they are sometimes best cared for at home. The HEAL website provides parents and caregivers with credible information regarding common childhood illnesses and injuries we see in Alberta, as well as practical advice to care for their child with confidence, or help articulate their concerns to a health care provider."
Information on croup, coughs, common colds, ear pain, nosebleeds, head injuries, vomiting and diarrhea, fever, febrile seizures and rashes is available on the site, including a detailed description of the illness or injury, symptoms, treatment, and when to seek immediate medical attention.
The HEAL website also contains videos about the staff your child will see while in the emergency department, as well as what to expect when coming to the hospital to make both patients and parents more comfortable with their hospital experience.
Work on the project began five years ago when several Alberta Children's Hospital physicians and clinicians noticed the same common illnesses and injuries appearing in the emergency department.
"The health concerns featured on the website are based on the 10 top common minor illnesses and injuries seen in the pediatric emergency departments in Alberta that are best treated at home," says Stephen Page, Registered Nurse and HEAL Project Coordinator. This resource is designed by local physicians and staff, and developed to address the concerns and questions we most often receive from our families in the ED."
The new website is also connected with the AHS Know Your Options campaign that helps educate Albertans about the various health care options in their communities and provide accurate information on how to get the right care, in the right place for you and your family.
"The HEAL website is another way to help families make choices about the care that's best for them. HEAL is not intended to replace emergency care, so if parents are worried or unsure of how sick their child is, or feels uncomfortable with how they look, we encourage them to call 911, or go to their nearest emergency department to be seen by a doctor," says Doshi.
The website has been reviewed by staff and families to ensure it is user-friendly, understandable, and easy to navigate. The information is also available in a mobile-friendly format so parents and families can access it from any device.
For more information, or to discuss health concerns, parents in Alberta can also call 811 to speak to a registered nurse for health advice and information 24 hours-a-day, seven days a week, or visit MyHealth.Alberta.ca for resources and information on a variety of health topics.
To access HEAL, go to www.ahs.ca/heal.