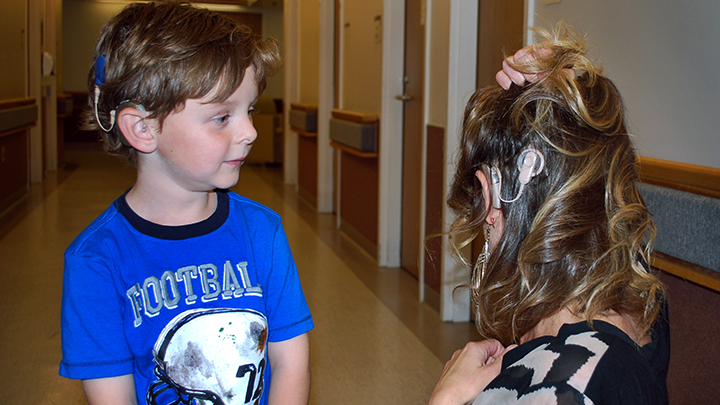 Glenrose Cochlear Implant Service marks milestone anniversary
Story & photo by Shelly Willsey
Marshall Hoddinott has magic ears.
"I can hear through walls and doors … they're magic," says the kindergartner about his cochlear implants. "They help me hear the world."
The Grande Prairie boy lost his hearing as an infant, but regained it thanks to the Cochlear Implant Service at Edmonton's Glenrose Rehabilitation Hospital — a service now celebrating 30 years of giving Albertans the ability to hear.
In the program's first year, only one patient received a cochlear implant. Gradually the number of patients getting implants grew — 100 in the first 15 years; another 435 in the next 15 years.
"Alberta Health Services is focused on improving the quality of life, and restoring the ability to hear is one way we can make a positive, lifelong difference in a person's life," says Dr. Verna Yiu, CEO and President of Alberta Health Services.
"Over the past three decades, the Glenrose service has turned silence into sound for more than 500 people from the Edmonton area and across northern Alberta. Everyone involved in this program should be proud of their accomplishments and take time to celebrate this milestone anniversary."
Unlike hearing aids, cochlear implants do not amplify sound. Instead, they convert sound waves into electrical impulses and transmit them directly along the hearing nerve. Implants comprise two parts — an internal device surgically implanted in the inner ear, and external equipment worn on and above the ear.
Initially, only adults were eligible for the implants. The first pediatric patient, a seven-year-old, received an implant in 1990.
"We're now doing implants with children as young as 12 months," says Audiology Services manager Brian Schmidt. "Many of these children develop age-appropriate speech and language, and can enter their community school with their normal-hearing peers."
For Corinne Hewko, receiving a cochlear implant in 1989 gave her back her hearing. The 44-year-old St. Albert woman had used hearing aids from the age of four, then completely lost her hearing at 17.
"Not a day goes by that I'm not grateful for the technology," she says. "I can go out and function; I don't want to go even a day without hearing. You always wonder what you're missing."
Implant technology has improved from early large and cumbersome units — the size of a small transistor radio — to today's more inconspicuous, ear-level devices. With Hewko's first device, a cord ran from her ear down her back to a box hidden beneath her clothing.
"Every time I receive an upgrade, it's a little bit smaller and lighter. My newest one is great — I barely know it's there and I don't have a sore ear when I take it off," says Hewko.
The Glenrose Cochlear Implant Team includes audiologists, surgeons, speech-language pathologists, psychologists, a social worker and support personnel.
"We have a strong, passionate team at the Glenrose," says Schmidt. "The patients' progress and the program's advances are a testament to their commitment."
Cochlear implants are also performed in Calgary at the Alberta Children's Hospital and Richmond Road Diagnostic and Treatment Centre.