New study employs free preventive meds, education to help seniors better follow their treatment plans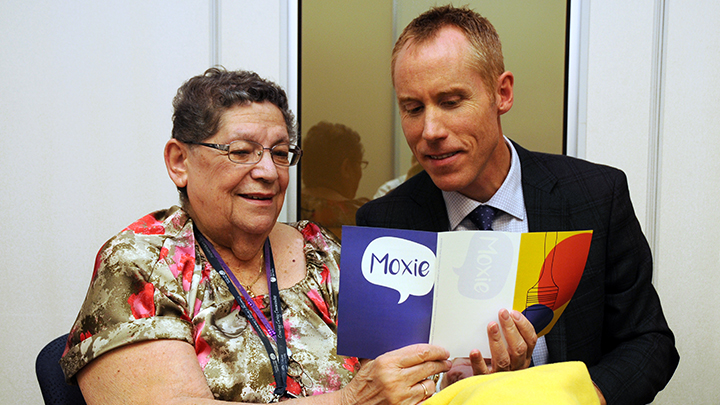 Story by Greg Harris; Photo by Paul Rotzinger
CALGARY — Like many seniors her age with chronic conditions, 81-year-old Rochelle Roseman takes several different medications throughout her day to help manage her arthritis, high cholesterol, high blood pressure and diabetes.
It's not always easy to stay on top of all the prescriptions, but Roseman is getting some help through a provincewide research study aimed at improving the health of seniors. Each week she receives a personalized mailing that provides information about her conditions, as well as some encouragement to take some small steps toward better health. Regular phone calls with study coordinators also provide a boost.
"It's really made a big difference to me," she says. "I really enjoy getting the information packages in the mail and talking to the study co-ordinators."
Alberta researchers hope 5,000 seniors across the province like Roseman can help them determine if interventions like personalized education or paying 100 per cent of the costs of their medications will help seniors better follow the recommendations of their doctors.
Only about 40 per cent of people with chronic conditions take their prescribed medications 100 per cent of the time, according to Dr. Braden Manns, a Calgary nephrologist and the principal investigator in the study.
"You can't feel high blood pressure or high cholesterol and so it's sometimes difficult for patients to understand the importance of taking preventive medications when they're not currently experiencing any symptoms," says Dr. Manns, also a professor in the University of Calgary Cumming School of Medicine's departments of medicine and community health sciences.
"The other reason people might not be getting their prescriptions filled is financial. Although insurance covers a significant portion of the cost of medication, the amount of the co-payment can still be a significant burden for some seniors," says Dr. Manns, also a member of the university's Libin Cardiovascular Institute and O'Brien Institute for Public Health.
Not taking recommended medications can hasten the development of cardiovascular disease and increase the risk of life-threatening events, including heart attack and stroke.
Estimates suggest treatment costs for chronic conditions such as diabetes and chronic kidney disease, as well as heart attack and stroke, wind up costing the Canadian health system more than $93 billion a year.
"Another important element that is being studied is the personalized educational component," says Dr. Scott Klarenbach, an Edmonton nephrologist and professor of medicine at the University of Alberta, who is also involved in the study.
"People have the option of doing the program online or through the mail. The idea is that it gives people information and skills in a positive, engaging way that might allow them to better manage their conditions." Dr. Klarenbach says.
Researchers are assessing the outcomes of people randomly assigned to four different intervention groups within the study: those who continue their present medication coverage and usual education through their physician's office; those who receive a personalized education plan; those who receive free preventive medications; or those who receive both the personalized education plan and free preventive medications.
"Research into chronic conditions for seniors ensures that our aging population receives the right treatments at the right time," says Dr. Pamela Valentine, Alberta Innovates-Health Solutions CEO (Interim) and Transition CEO, Alberta Innovates. "Healthy seniors make up healthy communities, and that's good for all Albertans."
To participate in the three-year study, individuals must be over 65 years of age, have an annual household income less than $50,000, and be at high risk of experiencing a cardiovascular event.
Participants will have a 50-per-cent chance of receiving free preventive medications for diabetes, high blood pressure, heart disease, blood thinners and medications to help stop smoking for the duration of the study.
Travel is not required for interviews or assessments; all the interactions with researchers take place by phone or email.
The project — called ACCESS (Assessing outcomes of enhanced Chronic disease Care through patient Education and a value-based formulary Study) — is funded by Alberta Innovates-Health Solutions, the Canadian Institutes of Health Research, and others.
For more information, please visit accesstrial.ca, email accesstrial@ucalgary.ca, or call the ACCESS study team at 1-844-944-8927.