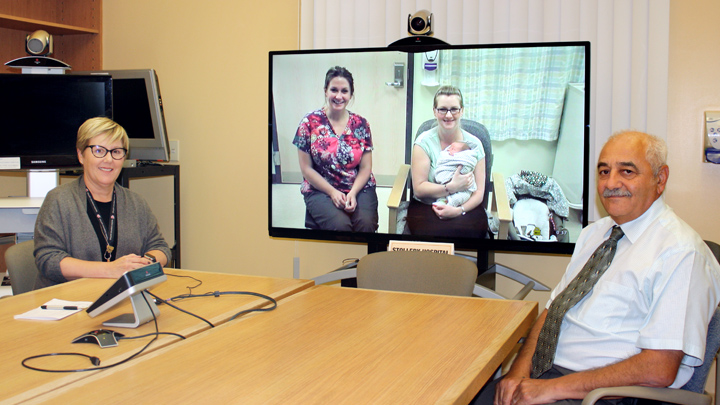 Stollery neonatologists help rural, critically ill newborns
Story by Sharman Hnatiuk; photo by Mathew Martin
Samantha Schmidt didn't anticipate any complications when she delivered her fourth baby at High Level's Northwest Health Centre in August.
But baby Karson had difficulty breathing, so staff used videoconference technology to access urgent advice from a Stollery Children's Hospital neonatologist, who had 24-hour-old Karson was transferred to Edmonton for care.
"I never expected that Karson would need to have the care he did, but I'm glad to know the supports are in place for situations like ours," says the 30-year-old mother.
High Level became the first site to pilot the Telehealth project in May 2014. Now healthcare providers in eight central and northern Alberta hospitals can now connect with experts at the Stollery's David Schiff neonatal intensive care unit (NICU) via Alberta Health Services' Telehealth videoconferencing system. In addition to High Level, the service has been implemented in Camrose, Cold Lake, Fort Vermilion, Hinton, Lloydminster, St. Albert and Wetaskiwin.
Using Telehealth, an on-call neonatologist assists with advice and clinical decision-making, including whether a newborn should be transported to an NICU with a higher level of care.
"Previously, we used the telephone to consult with physicians about critically-ill newborns," says Dr. Ernest Phillipos, Zone Section Chief of Newborn Health for the Northern Alberta Neonatal Program at the Stollery. "Thanks to immediate videoconferencing, we have enhanced our ability to triage referrals, reduce the need for unnecessary transfers, or provide interim support to rural physicians and nursing staff until our NICU transport team arrives."
A portable Telehealth unit was installed in the labour and delivery departments of the eight rural sites. The videoconferencing system can be moved to the newborn's bedside where Stollery neonatologists can discuss treatment options with on-site physicians and staff.
"Having access to the team at the Stollery has given our staff confidence to manage the care of acutely ill newborns," says registered nurse Jolene Willoughby, who is also an obstetrical educator at the Northwest Health Centre.
Dr. Phillipos agrees, adding that Telehealth also benefits rural Albertans.
"Transporting a newborn to Edmonton can be extremely stressful on parents and often distances them from their support networks," says Dr. Phillipos.
"Since implementing consults via Telehealth, we've had many cases where the neonatologist on call provides support to the rural physician and nursing staff to manage the newborn, preventing unnecessary transport of some newborns and their families. Of those babies still requiring transport, with videoconferencing, newborns are much more stable when they arrive to our critical care sites."
In the two years since the program began, the Stollery has made 20 Telehealth videoconferences with High Level. Eight of those were made this year.
As for baby Karson, he received oxygen and was monitored for four days until he was discharged.
"As soon as he was born, he had access to a specialist in our own community," Schmidt says.