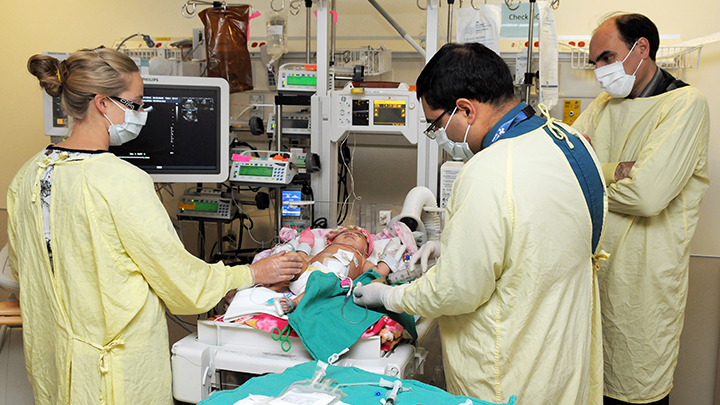 Province 'a fertile environment' for innovation
Story by: Gregory Harris
Alberta Health Services research hospitals in Calgary and Edmonton have placed in the top half of a national ranking survey in the first year of participating.
AHS Edmonton Zone hospitals placed 16th on the 2016 list of Canada's Top 40 Research Hospitals, while Calgary Zone hospitals placed 18th.
Results were released Nov. 10 by Re$earch Infosource, a consulting, research and publishing firm that also publishes rankings on research colleges and universities.
"A strong showing in the Infosource rankings by our research hospitals indicates Alberta is providing a fertile environment for fostering health research and innovation," says Dr. Kathryn Todd, AHS Vice President, Research, Innovation and Analytics.
"Our patients benefit when we can give them the latest advances in care and implement better ways of doing things. By ensuring we embed research and innovation in the care we deliver, we increase the quality of that care. We raise the bar."
Edmonton Zone research hospitals include the University of Alberta Hospital, Stollery Children's Hospital, the Royal Alexandra Hospital, the Glenrose Rehabilitation Hospital and the Cross Cancer Institute.
Calgary Zone research hospitals include the Foothills Medical Centre, Alberta Children's Hospital and the Tom Baker Cancer Centre.
The top three research hospitals in the country in the Infosource ranking, based on research spending, are The University Health Network in Toronto (comprising five institutions), the Hospital for Sick Children in Toronto, and McGill University Health Centre in Montreal. (Full listing: http://www.researchinfosource.com/top40_hosp.php)
"One of the many benefits of having a single health delivery system in Alberta is our ability to leverage knowledge," Dr. Todd says.
"Our plan is to continue to demonstrate that Alberta is an outstanding place for health research and innovation. We will keep working with our patients, clinician scientists, staff and partner universities to use research and innovation to improve health care and the lives of Albertans."
Marc Leduc, Senior Provincial Director, Innovation and Research Operations, notes health research could not happen without the collaboration with the universities.
"These rankings are achieved as a result of the efforts of our investigators, almost all of whom are affiliated with the University of Alberta or the University of Calgary," Leduc says. "AHS recognizes and appreciates the outstanding infrastructure, talent, skills and leadership of our university partners."
The Infosource rankings survey began in 2011. AHS hasn't participated until now, in part due to the challenge of compiling data in the early days of the AHS transition.
This year AHS established a methodology that can be reproduced annually.
A special newspaper supplement by Re$earch Infosource features a guest editorial (page 11) by Dr. Kathryn Todd, AHS Vice President, Research, Innovation and Analytics.