Walking Miracle Aizad Bilal announced as Alberta Children's Hospital Champion Child
"Walking Miracle" Aizad Bilal announced as Alberta Children's Hospital Champion Child
November 14, 2016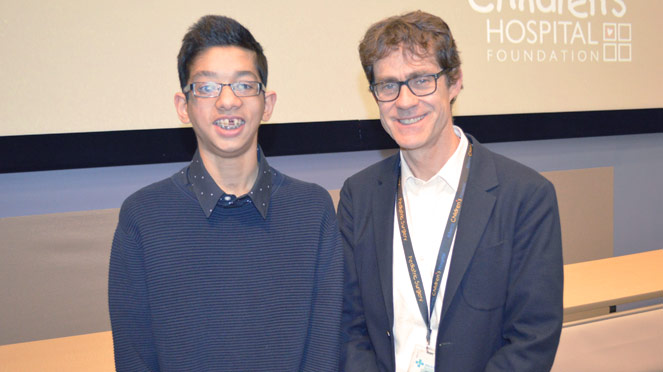 "It's not just a building with machines and beds – the love inside this hospital is amazing."
Picture by: Jenna McMurray
For Bilal Tanweer, describing the place his son, 15-year old Aizad Bilal, and their family has spent hundreds of hours over the last five years brings tears to his eyes.
In September 2011, Aizad was walking home from school in northwest Calgary when he was hit by a truck. Aizad was rushed to the Alberta Children's Hospital, where trauma specialist began working to save his life. His injuries were devastating: he had a brain bleed, broken ribs, a punctured lung, spleen damage, broken legs, broken wrists and a severed spine. He had broken every bone in his face. He was bleeding out which sent him into cardiac arrest.
Thankfully, specialists controlled the bleeding and got his heart pumping again and worked tirelessly through the night to stabilize him. Then a team of surgeons developed a strategy to – quite literally – put Aizad back together.
Over the next several months, Aizad endured multiple reconstructive surgeries, required a feeding tube to help him eat and for weeks, could only communicate using a white board.
With his loving family and dedicated team of caregivers by his side, Aizad re-learned how to walk, talk and eat by mouth and three months later, proudly walked out of the hospital on his own two feet.
"I have never felt like the people who work at the hospital are just doing their jobs – it feels like everything they do is coming from their hearts," says dad, Bilal.
Today, the Grade 10 student is back to his comical, smiling and charming self. His family calls him a "walking miracle." And this is just part of why Aizad was chosen to be the 2016-2017 Alberta Children's Hospital Champion Child.
The Champion is a patient at the Alberta Children's Hospital who has shown incredible courage and strength and lived above an injury or diagnosis.
As an ambassador for the Alberta Children's Hospital, Aizad will attend special events and represent the 95,000 kids cared for at Alberta Children's Hospital each year.
The Champion shares their own story and inspires hope in others – which is exactly what the Alberta Children's Hospital - and the Champions program - is all about.
"The very best of the human spirit is everywhere throughout the Alberta Children's Hospital," says Saifa Koonar, President and CEO of the Alberta Children's Hospital Foundation. "Whether it's a brave child in the fight for their life, the compassionate doctor or nurse who walks alongside them, the parent who never leaves their child's bedside, or the community member who donates simply because they want to help kids – this hospital brings out the best in all of us. And the Champions program helps us to share those inspiring stories."
Dr. Robertson Harrop, Section Chief, Plastic Surgery, Calgary Zone, says thanks to community support, some of the brightest minds in pediatric healthcare have been attracted to work at the Alberta Children's Hospital. And when Aizad arrived at the hospital that September day, he needed them.
"Aizad's injuries were some of the most complex I have ever seen in my career and it took many specialists from many departments working together to save his life," says Dr. Harrop. "As physicians, we are very grateful to our community for funding excellence at this hospital to allow us to do that."
Aizad's dad agrees. "We are so blessed we are so close to this incredible facility."