Filling the Tank with Health and Wellness
Filling the Tank with Health and Wellness
November 28, 2016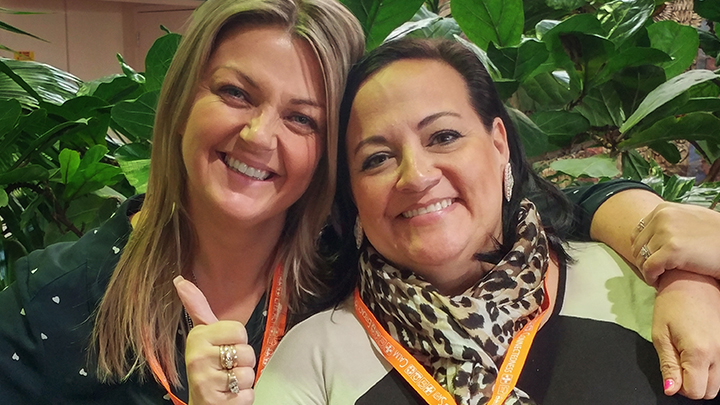 Training courses in the Wood Buffalo area help people find ways to self-care and stress management
Story by Erika Sherk; Photo by Tammy O'Quinn
Tammy O'Quinn and Stephanie Doucet don't just help other people live well – they walk the talk themselves. The two Alberta Health Services (AHS) employees facilitate Psychological First Aid (PFA) training sessions in the Wood Buffalo area, teaching people practical tools and techniques to manage stress and stay mentally and physically healthy after a disaster.
The courses are part of AHS' Wellness and Recovery Plan for the Wood Buffalo area. In May, a wildfire, one of the worst in Canada's history, decimated several neighbourhoods in Fort McMurray and forced a city-wide evacuation.
For O'Quinn, a mental health promotion facilitator, and Doucet, an Indigenous liaison worker, their work is more than just a job – they practice what they preach. Both experienced the wildfire evacuation. They returned to a struggling community, monumental personal challenges (Doucet had lost her home,) and jobs that had changed drastically overnight. Self-care and stress management have been key.
"Music is important for me," says O'Quinn. "Eating well, staying active and just surrounding myself with great people." She also incorporated wellness sessions into her workplace, gathering her colleagues for yoga, walks and comedy sessions.
Spending time with her dogs is a key stress reliever for Doucet. "They have nothing but love so when you receive that you tend to give it back. I go to them for my joy and relief," she says.
The PFA courses are one part of the enhanced training that AHS is offering in the area. Other courses –Skills for Psychological Recovery, HeartMath and Change, Loss and Moving Forward – are also available in the community. PFA is also available in French.
"We know that the majority of people are resilient and can get through something like this with some support," O'Quinn says. For those who need more significant support, AHS has many resources available. Call Health Link at 811 for more information.
The PFA courses have been offered in the area since 2015, but since May of this year they have been adjusted to be responsive and sensitive to the needs of Wood Buffalo residents.
The courses provide people with tools and techniques to recognize stress and trauma after a disaster – whether in themselves or in others – and respond effectively through proactive self-care and stress management techniques.
"The course helps people to fill their tanks, metaphorically, with health and wellness," says O'Quinn.
"It's very useful, practical information," adds Doucet. "It can be used in everyday life as well as in hard situations."
The courses are free and offered regularly in the community. Workplaces or other organizations can request to have them held for employees and members.
Julia Soucie, director of the Fort McKay Wellness Centre, organized PFA training for community members at the centre.
"I found it really helpful," she says. "It provides tools for self-care, tools to manage stress and also to recognize the signs of trauma in ourselves as well as in other people."
She said that people don't always want to admit they're struggling. PFA provides the impetus for people to realize their feelings need to be acknowledged.
"One lady had lost her house, had lost everything without insurance and she was having a really hard time," says Soucie. "She said that the training helped a lot – it helped her recognize that she was going through trauma where she had tried to brush it off before."
O'Quinn says she encourages people to come and take the PFA courses. She and Doucet are happy to get to know people and answer any questions they may have.
"We're fun, we're down to earth and you know what? We've been there. We've been through that disaster and we really genuinely want to help people to be well and to be healthier. It's free and you can come out and gain some practical tools and skills."
For more information on the AHS courses available in the Wood Buffalo area, please email fmm.trainingsessions@ahs.ca or visit www.ahs.ca. For information on other wellness and recovery resources, call Health Link at 811 or the Mental Health Helpline at 1-877-303-2642.