Getting fit and "feeling amazing"
Getting fit and "feeling amazing"
December 8, 2016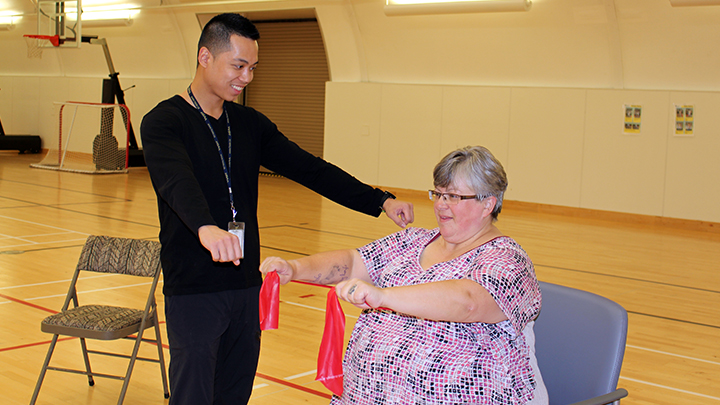 Exercise program making a difference in the lives of Grande Prairie residents
Story by Erika Sherk
Grande Prairie resident Gloria Evenson says she would recommend the Alberta Healthy Living Exercise program to anyone.
"I have lost 40 pounds and kept it off," she says. "My blood pressure and blood sugar have normalized. I am no longer on blood pressure medication and my diabetic meditation is a quarter of what I used to be on. I feel amazing."
The Alberta Healthy Living Exercise program is a free, eight-week adult program offered throughout the province by Alberta Health Services (AHS). The program is focused on adults who are living with a chronic condition or diagnosis, such as pain, diabetes, high blood pressure and/or cholesterol, asthma, arthritis or mental health issues such as depression.
"It's a free program and a perfect starting point for people who want to start living a more active lifestyle," says Jordan Javier, AHS Exercise Therapist. "It's especially good for those who need support and guidance with exercise."
The group meets twice a week and each participant gets an individualized assessment prior to starting the program. They are also assessed at the end of the eight weeks so that they can create a plan to help them continue on with the healthy exercise habits they've learned.
"I absolutely love it," says Diana Trarback, who started the program in October. "I already have more mobility and not as much back pain. I've really appreciated learning how to do the exercises properly, without injuring or hurting myself."
"The workouts were tailor-made to each of us with personal guidance from the instructors," says Evenson. "This program stood out to me because of the care the instructors have for each person's health."
Throughout the program, people are supported by peers and the exercise team to learn new exercises that help with daily activities of life. "We talk about strategies to stay motivated and problem-solve barriers people may have to exercising and becoming or staying more active," says Javier.
Kirby Godin, a Grande Prairie resident, says it's made a big difference in his life. "One day I woke up and decided I wanted to be a part of the solution, not contributing to the problem," he says. "This program is really what jump-started me on weight loss and getting fitter."
The Alberta Healthy Living Exercise Program is one piece of the larger Alberta Healthy Living Program (AHLP) that also offers group education on Type II Diabetes, High Blood Pressure and Cholesterol, Weight Management and Nutrition. AHLP also offers a six-week goal setting course called Better Choices, Better Health, which assists people in setting and maintaining realistic goals for a healthier lifestyle.
The next Alberta Health living Exercise Program in Grande Prairie will take place in January. For more information about the AHLP or to register call Sheri at 1-877-349-5711.